Sneak Peek: 'Marvel's Guardians of the Galaxy' Scene From the First Episode (VIDEO)
https://player.waywire.com/?id=GHSD692BMWHTCRB2
Fans of Guardians don't have to wait for the live-action movie to return in 2017 to see their fave space outlaws. Instead, catch up with the gang in the animated Marvel's Guardians of the Galaxy series, debuting on Disney XD later this month.
Before the one-hour series premiere, Disney XD is offering a sneak peek of the show's first episode, "Road to Knowhere," tomorrow, Saturday, September 5, at 9 pm ET/PT. In the ep, the ragtag team acquires a dangerous artifact that makes them the target of Korath, Thanos' equally dangerous new liutenant.
RELATED: Rocket Gets Animated on Guardians
Disney shared an exclusive scene from the first episode that features Star-Lord (voiced by Will Friedle of Boy Meets World), Rocket, Groot, Gamora and Drax trying to decide whether to punish or save Yondu from scary pit leeches.
"So, what are we? Heroes or outlaws?" asks Rocket.
"Why can't we both?" Star-Lord replies.
"Because you can't be half a hero or half an outlaw," Gamora says, before the pit leeches suddenly attack and…well, you'll see happens.
For the actual premiere, Disney XD will be airing back-to-back episodes. First is an encore of "Road to Knowhere," then "Knowhere to Run." In the second episode, the Guardians will juggle a few things, like rescuing Star-Lord and Gamora from Korath's ship, regaining a mysterious object called the CryptoCube and resolving issues related to the Celestial head.
Marvel's Guardians of the Galaxy will debut on Saturday, September 26, 9:30-10:30 pm ET/PT on Disney XD.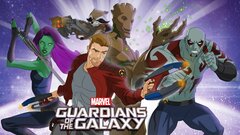 Powered by