'Suits' Secret Revealed: Why Exec Producer Aaron Korsh Waited Until the Midseason Finale for [Spoiler's] Arrest
Spoiler alert! Do not read on if you haven't watched the Suits midseason finale.
After five seasons of hiding the the fact that he doesn't actually have a law degree, the final moments of Wednesday's midseason Suits finale saw Mike Ross (Patrick J. Adams) get walked away in handcuffs as his fiancee Rachel (Meghan Markle) looked on dismay. Unfortunately for the not-so-legal eagle, his big secret came out just as he'd decided to quit working for the firm.
But Mike wasn't the only one with a big decision on his plate. Harvey (Gabriel Macht) had to choose between sticking by fellow name-partner (and friend) Jessica Pearson (Gina Torres) and letting their former partner and long-time nemesis Daniel Hardman (David Costabile) take over the firm, or leaving and allowing her to remain managing partner.
"It was an effort to pay off the first five years," says executive producer Aaron Korsh of this season. "And go into new, unenvisioned territory and see what happens after that." Korsh told us more about Mike's arrest, Harvey's big emotional breakthrough and Donna's sit-down with Dr. Agard.
Mike's been keeping this secret for a really long time. What made this the right time to have it come out?
Somewhere in the course of either the end of last year or the beginning of this year we just decided it's time he got caught. I never knew exactly how long Suits would be on, but when I looked back on it, somewhere deep down I thought Mike getting arrested was going to be the end of the show. [So] to keep this show going, and keep it interesting, we need to see what happens on the other side and we can't just keep pushing it off.
Will there be a time jump when the show returns?
It picks up right away.
Do we find out right away who revealed Mike's secret?
We didn't want to make it the focus of the episode, but rest assured that we will find out. It's not going to happen right away. It's not going to be an all-out search to find whodunit, but we will contemplate the question and explore the answer and ultimately realize who it was.
Harvey's just tendered his resignation. How will Mike's arrest affect that decision?
The fact that Mike got caught as Harvey quit is going to put him in a bind. You're obviously not going to want to leave an abandoned Mike and not help him out. So that is going to alter the trajectory of Harvey's decision one way or another. He made a deal with Forstman, and if he stays at work you know Forstman is going to pick right up where he left off. So Harvey is between a rock and hard place in [terms of] wanting to help out Mike and not lose the firm for Jessica. That is part of what we deal with in the next six episodes.
Did Mike have a backup plan when he chose to leave the firm? Or was he just acting on a guilty conscience?
I don't think he had a backup plan. What [Mike] realized when talking to the priest [was that] he would be able to come up with a backup plan. The truth of the matter is that he's a smart guy and he should be able to figure out a way to do something that isn't illegal and that doesn't have a secret to hang over his head. But first he got tired of committing the crime, and [thought] that he would be able to figure out what he was going to do next.
Harvey had a big breakthrough with the therapist. What does that mean for him going forward?
Interesting question. Harvey had a big breakthrough and going forward we will probably explore that more in Season 6 then we do in the next six episodes because again you can have a foolproof breakthrough, but then all of a sudden your brother gets arrested for fraud. That kicks over any kind of breakthrough that you've had. You have to focus on the matter at hand. His journey in therapy has affected many of the decisions and the things that he's done all year have been different from what he's been going through.
I loved that Dr. Agard (Christina Cole) finally got to meet Donna (Sarah Rafferty). Did you always plan for that to happen?
It just kind of happened. When the writers wrote the finale scene where Donna comes in, Harvey was still going to be there. When we were doing the rewrite I thought it would be more interesting if Harvey was already gone and then you can have a personal scene [with] Donna and Dr. Agard, these two women that are so important in Harvey's life and so crucial to who he is, and to see them have a respect and admiration for each other.
Is Jack Soloff (John Pyper-Ferguson) still a part of the firm or has he been let go?
Jack is still there, he didn't get fired. His power play probably scuttled and failed. Mike getting arrested changes things, because obviously the question is going to be that Harvey must've known. Within the firm it puts you in a vulnerable position. We tried not to spend so much time reigniting the firm battle. We've had so much of that, that I didn't want [it] to take over again. But we don't ignore it. We try to tackle it head on, deal with it and then move on.
Suits will return with the remaining six episodes of the season this winter.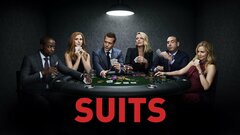 Suits
where to stream
Powered by