'Star Trek: Discovery' Cast Reveals On-Set First Times Were Energizing (VIDEO)
When TV Guide Magazine and TV Insider boldly went to San Diego Comic-Con in July, you know we had to chat with the crew of Star Trek: Discovery. Not only is the upcoming CBS All Access prequel to the original series brimming with firsts (as Anthony Rapp and Doug Jones reveal below), during our interview its cast was also the human equivalent of mainlining Red Bull.
When not trying out the Nintendo Switch or posing for pics in the TV Insider/Getty Photos Studio, the Discovery posse could be found laughing with each other and signing a TV Guide Magazine cover featuring the classic Star Trek.
Below, Sonequa Martin-Green, Jason Isaacs, James Frain, Mary Wiseman, Jones, Shazad Latif and Rapp give us the rundown on their characters and talk about "reveling" in the moments that left them stunned while filming the iconic franchise's newest entry.
Star Trek: Discovery premieres September 24 on CBS and then subsequent episodes will air on CBS All Access.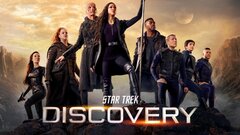 Powered by