What's Worth Watching: 'The Strain' on FX, and more, for Sunday, September 6
The Strain, "The Battle for Red Hook" (Sunday, Sept. 6, 10/9c, FX)
While Fear the Walking Dead takes a break from the zombie apocalypse this holiday weekend, your best bet for serious supernatural carnage is FX's vampire-pandemic thriller The Strain, which after a few relatively sluggish weeks roars back with one of the second season's stronger episodes. (As if to acknowledge the fact, the show ups its game with new one-time-only opening credits with a vivid classic-comics vibe.)
Much of the rest of the credit goes to my favorite new character this year: feisty New York councilwoman Justine Feraldo, played with gritty gusto by Samantha Mathis. She makes you believe she could hold off the hordes of evil-tongued Strigoi from invading her native Staten Island by sheer willpower. Now she's trying to secure the Brooklyn waterfront neighborhood known as Red Hook, which unbeknownst to her has become a new Ground Zero for vampire invaders, thanks to the presence of Eph Goodweather (Corey Stoll) and his team—including annoying son Zack (Max Charles), who Vamp Mom Kelly (Natalie Brown) is still desperate to convert. (I'm betting if she spent more than five minutes in the brat's pouty company, she'd throw him back.)
As the evil Eichhorst (delectable Richard Sammel) plots to ferry an undead army in from Manhattan, on what will become known as "the night the lights went out in Brooklyn" in a terrific set piece, it's up to Justine to rally a citizen army against the ghouls. And few moments in The Strain have been as exhilarating as the spectacle of this brassy pol screaming, "Citizens to the barricades!" (A chorus of "Do You Hear the People Sing" from Les Miz would not be out of place.) Meanwhile, harbinger of doom Abe Setrakian (David Bradley) conducts a one-man quest to take out his nemesis Eichhorst with his magical Sword of Vengeance. Which sounds exciting enough, but for one week all of my attention and admiration is trained on Justine the Great. Please, show, make Mathis a cast regular—and if you're going to sacrifice her, make it a memorable death. Just not any time soon.
Also Sunday
Arthur & George, Miniseries premiere, 8/7c, PBS (check local listings at pbs.org)
Masterpiece adapts Julian Barnes's novel into a three-part crime mystery starring Martin Clunes as Arthur Conan Doyle.
Sunday Sports
U.S. Open Tennis 11am/10c and 7/6c, ESPN2, Round of 16
PGA Tour Golf 1/noon c, Golf Channel and 3/2c, NBC, Deutsche Bank Championship
NASCAR Racing 7/6c, NBC, Sprint Cup in Darlington, South Carolina
MLB Baseball 8/7c, ESPN, Pirates at Cardinals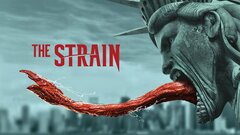 Powered by