Is Smurf Still Up to No Good in the 'Animal Kingdom' Season 2 Finale?
As Season 2 comes to a close, the Cody boys are learning to be careful what they wish for. Because of the vindictive Baz's (Scott Speedman) machinations, controlling mom/criminal mastermind Smurf (Ellen Barkin) is in police custody, but a celebration doesn't necessarily seem in order. "It's that feeling where you've been wishing for something to happen," says Jake Weary (above right, with Finn Cole), who plays closeted, possessive son Deran Cody, "and when it finally does, there's a bit of regret."
See Also
Just when he thinks he's out, Deran gets pulled back into the family drama even more. Find out more in our post-mortem interview!
With Smurf temporarily out of the way, Weary teases that the endgame shifts to the brothers jockeying for—what else?— more power. But can a jail cell really stop Smurf from pulling some strings? "She's been doing this for a very long time and knows the ins and outs," Weary says. "She's extremely manipulative and knows how to get things done in her own way." Watch your backs, Cody boys!
Animal Kingdom, Season Finale, Tuesday, Aug. 29, 9/8c, TNT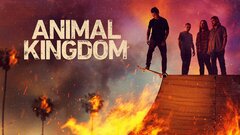 Powered by