'Review's Forrest MacNeil Tries to Score the Perfect Body, No Matter the Cost (VIDEO)
Critic (and life-experience collector) Forrest MacNeil (Andy Daly) returned for a second season of Review on Comedy Central. A so-called reviewer of life, MacNeil prefers seeking out, living, and rating "real" experiences like stealing, getting revenge and quitting a job (instead of reviewing movies, art, and food).
Season 2 will find MacNeil following the instructions of a Magic 8 ball, leading a cult and trying to acquire the perfect body.
In the hilarious clip below of the episode airing on Thursday, MacNeil evaluates his body and then goes to great lengths to make it an Adonis ideal. He joins the gym, commits to a spray tan and undergoes surgical "improvements" in order to transform himself into a five-star specimen.
Review, Thursdays, 10/9c, Comedy Central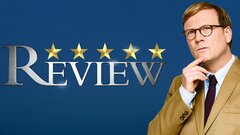 Review
where to stream
Powered by