'Unauthorized Full House Story' Reveals What Uncle Jesse Was Almost Called (VIDEO)
What's in a name? A lot if this exclusive clip from Lifetime's Unauthorized Full House Story is anything to go by.
As seen in the video below, John Stamos (played by Days of Our Lives star Justin Gaston) might be the one to thank for not only Uncle Jesse's love of Elvis, but also his character's name.
If it wasn't for the former soap star's (and Beach Boys friend's) idea, we might have known him as something completely different. Find out what name was originally chosen for the edgy uncle.
RELATED: The Story Behind the Full House Netflix Revival
The Unauthorized Full House Movie will air on August 22 at 8/7c on Lifetime.
[jwplatform 0SqIzHei]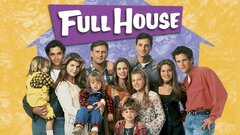 Powered by