BBC Releases New 'Doctor Who' Trailer (VIDEO)
Looks like fans won't be needing a TARDIS to get a glimpse at the next season of Doctor Who after all. The BBC just released a new trailer teasing some of what Season 9 has to offer, building on what the previous trailer— which was shown at San Diego Comic Con—already revealed. BBC America revealed some details describing the trailer:
[T]he series sees the Doctor (Peter Capaldi) and Clara Oswald (Jenna Coleman) going on a journey that takes them to deadly alien planets, creepy underwater bases, Viking villages, a global Zygon uprising, and through hidden alien dens, to the very end of time itself.

Meeting monsters old and new, the Doctor will come face to face with Missy (Michelle Gomez), a city of Daleks, deadly mercenaries called the Mire, terrifying ghosts and more.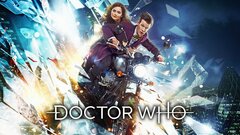 Powered by