BET Making a New Edition Miniseries, without Bobby Brown The three-night biopic miniseries, arriving in 2016, will be made with the help of New Edition's Ricky Bell, Michael Bivins, Ronnie DeVoe, Johnny Gill and Ralph Tresvant, who will all serve as producers. But Bobby Brown won't be involved.
Marvin Gaye III says he plans to sue because the Fox drama bares a strong resemblance to a show he registered with the Writers Guild of America in 2010 called Diamonds & Ballads.
Fox's Minority Report and Lucifer and NBC's Blindspot and The Carmichael Show surfaced early this morning on piracy websites.
The comedy starring Abby Elliott becomes the second of Bravo's two original scripted series to earn a second season.
CBS entertainment chief Nina Tassler says she hasn't decided the future of Under the Dome, but the dome coming down "opens up a host of other storytelling possibilities."
The two-hour season premiere of Law & Order: SVU will include a serial killer's confession caught on camera.
"He will be a factor in our life, but you won't see him on screen, he will be more in the background," exec producer Geoff Johns says of Superman. PLUS: Why Supergirl isn't Superwoman, and watch a new Supergirl trailer.
Last night's finale "nicely addressed a central problem that has plagued this season as a whole," says Ben Mathis-Lilley. He adds: "What made these (finale) scenes land so heavily was that, finally, True Detective was doing something that it had often, over the course of the season, failed to do: connecting its characters' personal lives and motivations to the exceedingly intricate mystery of murder, blackmail, robbery, sex parties, and railroad-related corruption that comprised the plot." PLUS: Ranking Season 2 lines, the winners and losers of Season 2, the best and worst character endings, and blame risky plotting for Season 2's downfall.
The exorcism drama will feature Brent Spiner, David Denman, Lee Tergesen, Catherine Dent, Grace Zabriskie and Melinda McGraw.
The documentary exceeded its goal with $680,000 pledged from nearly 14,000 backers.
She'll play Bart's new teacher, Mrs. Berrera.
Wesley's role hasn't been revealed, but she'll be part of a multi-episode arc. PLUS: Arrow finds a new love interest for Thea.
Ben Affleck says "it's the riskiest season we've ever done."
The one-hour documentary, airing tonight, almost brushes off Farley's flaws, which David Spade doesn't gloss over.
"Jimmy was the preacher," says the America's Got Talent judge, who interviewed a 20-year-old Aniston when she was promoting Nutrisystem. "He did a beautiful job. I didn't think he'd get through it. Jimmy's still depressed about that lion getting killed over in Africa…Ellen was mad that I made fun of Jimmy for crying."
DirecTV will charge $50 per month to nonsubscribers, and $25 to students.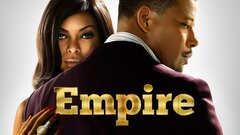 Empire
where to stream