FX Orders Louis C.K.-Produced Comedy; Sets Premiere Dates for 'Fargo', 'American Horror Story'; Renews 'The Strain'
FX has found Better Things to do with Louie's Louis C.K. and Pamela Adlon.
Adlon starred in and co-created the new show, which was ordered Friday and announced at FX's portion of the Television Critics Association press tour. Adlon and C.K. wrote the pilot, which was directed by C.K. The 10-episode first season will be produced by C.K.'s production company Pig Newton for FX Productions.
Better Things centers on Adlon as Sam, a working actor raising three daughters on her own. In addition to Adlon, Better Things stars Mikey Madison, Riley Watson and Olivia Edward as the three daughters.
At FXX, the network has ordered the animated comedy Cassius and Clay, a buddy comedy about bandits surviving in the post-apocalyptic South. Adam Reed (Archer) writes and executive produces the show with Megan Ganz. Kaitlin Olson provides the voice of Cassius, while Lake Bell will voice Clay.
Also, Archer will hop from FX to FXX, where it will run along side the channel's growing comedy stable.
Additionally, FX announced the premiere dates for the new Kurt Sutter drama The Bastard Executioner (Sept. 15); American Horror Story: Hotel (Oct. 7) and Fargo (Oct. 12). And the network ordered a third season of The Strain.
More TCA Coverage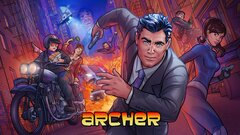 Archer
where to stream