Why Canceled TV Shows Keep Rising from the Dead Shows like 24, Prison Break and The X-Files have brand names that the other shows don't have. The problem is that the same people whose decisions led their shows to be canceled are the same ones reviving these shows
The 70-second trailer also shows more of Lucious behind bars. PLUS: See Season 2 cast photos, and Lee Daniels planning a Young Cookie spinoff: "There is going to be a spinoff from Empire, without question."
The Late Show marquee on the Ed Sullivan Theater was put up last night.
The D.C. NFL team will be called the Washington Red Clouds after a "renowned Indian chief," the show's executive producer told critics. PLUS: Why Minority Report split the lead roles.
The New Mr. Peabody and Sherman Show is set to debut on the streaming service on Oct. 9.
The Fox NFL Sunday crew will broadcast from the Emmys on Sept. 20, and the Eagles-Cowboys game later that day will be used to feature glimpses of the red carpet ahead of that night's awards ceremony.
Lena Headey's CGI nude walk on the Game of Thrones Season 5 finale may be part of a growing trend for actors and actresses not wanting to take off their clothes.
Staten Island attorney Richard A. Luthmann wrote of his request to a judge in a civil fraud case he's involved in: "As such, the undersigned (Luthmann) respectfully requests that the court permit the undersigned to dispatch plaintiffs and their counsel to the Divine Providence of the Maker for Him to exact His divine judgment once the undersigned has released the souls of the plaintiffs and their counsel from their corporeal bodies, personally and or by way of a champion." PLUS: Daenerys and Daario body doubles are dating in real life.
Brewster says she had hoped to do a few guest appearances while A.J. Cook was on maternity leave.
The two scenes, says Jason Lynch, "instantly transformed the show into something far richer, darker and more intriguing than the original CBS version. In doing so, it makes a good pilot into something great, and more importantly, a serviceable show into something that could be marvelous."
How long will Viacom continue paying for episodes it's no longer airing because of the Bill Cosby scandal?
Back in 1998, Stewart visited Conan to promote his new Daily Show gig. "Congratulations to Jon Stewart on an incredible achievement in comedy," Conan tweeted today. "Sadly, now it's back to getting all my news from Geraldo." PLUS: NYC's mayor declares Thursday "Jon Stewart Day," read more tweets from celebs celebrating #JonVoyage, and Jerry Seinfeld tweets: "Love you, man."
Here's a more detailed look at the Martin Scorsese-Mick Jagger '70s NYC rock 'n' roll drama, from Boardwalk Empire creator Terrence Winter.
McHale says he didn't mean to imply earlier this week that Community was canceled. He adds: "But I'm pretty sure that if (creator Dan Harmon) writes it, we can do a movie."
He'll play a possible suspect in the Season 2 murder case.
The first episode back of the E! series will focus on MTV's VMAs.
"Pieceing together her past. One tattoo at a time," says the poster.
Kimmel, who's off this week, spent Monday hosting a bachelor party at his home for good pal Theroux.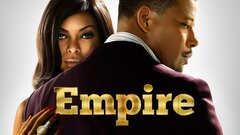 Empire
where to stream