'Mr. Robot' Season 3: USA Releases New Trailer, Sets Premiere Date
If you were one of those who followed the clues in a scavenger hunt presented across the social media platforms for USA Network's Mr. Robot on Friday—and if you were savvy enough in solving those clues—you were rewarded with finding a private URL where you could exclusively watch a teaser trailer for Mr. Robot Season 3, and find out that the new season is arriving Oct. 11.
If you were not among those, well, don't feel bad—we weren't either. Here's the trailer for your enjoyment:
Although "enjoyment" may be a relative term. The creepy, minute-long trailer is dark, bleak and dystopian—not surprising for the series. A voiceover reads a poem that sounds simultaneously hopeful and ominous about how "Democracy is coming to the USA"—referring to the country, that is, not the network; a country the voice describes as "the cradle of the best of the worst." And it's implied that whomever is deemed "the worst" had best look out.
See Also
Can't wait until Wednesday for your favorite Mr.Robot cyber-vigilante's to return? From the Smithsonian to a Nicholas Sparks sob-fest, check out where the stars were before they were saving the world from corporate greed.
The trailer also features glimpses of established characters, including Elliot (Rami Malek), Mr. Robot (Christian Slater), Darlene (Carly Chaikin) and Angela (Portia Doubleday).
It also gives us a quick peek at Bobby Cannavale's new character, Irving, described by USA Network as a "laconic, no-nonsense used car salesman," though even his brief appearance in the trailer seems to show he's a bit more than that.
Earlier Friday, it was the release of a first-look photo of Cannavale in character that alerted fans to stay tuned for more clues leading to the trailer. Here's the photo of Cannavale as Irving that was revealed on Friday:
According to USA, the new season of Mr. Robot will pick up immediately following the Season 2 cliffhanger, and will explore each character's motivations and the disintegration between Elliot and Mr. Robot.
Mr. Robot Season 3 premieres Wednesday, Oct. 11, 10/9c on USA Network.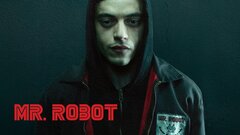 Powered by