Falling Skies Is Ready to Fight to the Finish
The doomsday clock ticks for the fighters of the 2nd Massachusetts Militia. Falling Skies, the sci-fi thriller from Steven Spielberg's Amblin Entertainment, is starting its fifth and final season, which means the human heroes at its heart have only 10 episodes left to win back the world from genocidal alien invaders. It's safe to say the stakes have never been higher.
And for the first time since the Espheni occupiers landed on Earth, the new season opens with a sense that total freedom may be at hand. As Season 4 ended, the 2nd Mass's leader, Tom Mason (Noah Wyle), and his daughter, Lexi (Scarlett Byrne), destroyed the enemy's power core on the moon, crippling their technology.
The victory came at a heavy cost: Lexi—a onetime Espheni ally whose DNA was an eerie human/alien mix—died when she heroically crashed her stolen alien spaceship into the core. Tom, left drifting in space in a disabled ship, had a cryptic encounter with a long-dead loved one, who urged him—in what appeared to be either a dream, hallucination, or an alien visitation—to find his inner warrior.
He will take the advice to heart. When he returns to Earth under mysterious circumstances, little is left of the erudite and kindly history professor he was in pre-invasion Boston. "Tom is convinced that he must reach down to a much darker and vicious place to find that warrior inside him," says executive producer David Eick. "He's less given to mercy or philosophical thought and more to achieving his agenda at any cost."
Wyle, taking a break on the four-acre North Vancouver set that's serving this December day as an impressively bombed-out Naval base, agrees: "It's the most aggressive and angry we've seen Tom. It's as if he's been given a secret that he must preach as gospel." A gospel that calls for taking moral shortcuts. "He's fairly messianic about it," Wyle adds.
But some wonder if the messiah is true or false. "He gets these odd hunches, and though we follow him, that leads into suspicions as to what exactly happened to him up there," says Drew Roy, who plays Tom's oldest son, Hal.
Tom "is so changed," Wyle says, that Col. Dan Weaver (Will Patton) "becomes the humanist. Where normally Weaver would have settled the situation through violence, now he's turned peacemaker." Weaver, a tough-as-nails Iraq War veteran who's lost his entire family in the occupation "is now the one saying, 'Let's watch out for other people,'" says Patton, who's enjoying the switch. "And
Tom's saying, 'We've got to go in with bloodlust.'" As Tom hardens, Weaver's mentoring of Tom's youngest son, Matt (Maxim Knight), has helped the embittered Army vet regain his humanity.
Also this season, Matt, now a gung-ho 13-year-old, has finally graduated into a full-fledged soldier—and it's not the glorified mantle he imagined. He may have already experienced significant death, but when he goes hunting aliens with his vengeful dad, he quickly learns the unsavory decisions good people must make in wartime.
Off screen, the 15-year-old actor is as excited as any kid playing war games, proudly displaying the Czech-made Scorpion gun Matt has been issued. "This is the first time it's ever been used on TV, so that's pretty cool!" says Knight, whose character will experience puppy love with a sickly girl named Evelyn (Taylor Russell).
Tom's wife, Anne (Moon Bloodgood), is the family member most affected by his obsessive behavior, which has left them no time to mourn Lexi's death. "What happened colors Tom's behavior," Wyle says. "Anne accuses him of behaving in ways she doesn't recognize because of that loss, so the ramifications play out in a major way between the couple."
Love troubles continue as well for the romantic triangle involving Tom's sons Hal and Ben (Connor Jessup). Maggie (Sarah Carter), the steely warrior who's been entangled with Hal, has been drawn to Ben since receiving a transplant of his Espheni "spikes," which gave her superhuman abilities similar to his. "Ben offers the freedom to be wild yet strong and of service to a great cause," Carter says. "Though I really think that, with Maggie and Hal, it is true love."
Well, maybe. Hal's attraction to a beautiful young woman named Isabella (Catalina Sandino Moreno, an Oscar nominee for Maria Full of Grace) could prove Carter wrong. "Isabella is very different from Maggie," Roy says. "She has an intellectual side, and they both have fathers who were history buffs. When they end up stuck together for a while, they find comfort in each other. We'll see who Hal ends up with and for what reason."
Still, personal desires must come second to the unrelenting push against the enemy. Intel from the 2nd Mass's alien allies, the Volm, appears to pinpoint the site where the Espheni are hunkered down. And as they close in on it later in the season, Tom and his militia could find the human allies they need in the 14th Virginia, a group of veterans. "They have food, manpower, and weapons, just what we need for our mission," Roy says.
But as Falling Skies fans know, too-good-to-be-true characters rarely fail to disappoint. "One area we want to investigate in the fifth season is just how much of a pressure cooker this situation has become for other pockets of [survivors]," Eick says. "They're not all as noble as the 2nd Mass." Even though the commander of the 14th, Capt. Katie Marshall (Melora Hardin), served with Weaver in Fallujah, their methods of coping with the occupation have been very different.
The rebels will need any help they can get. As we learned last summer, another mysterious threat is lurking, one strong enough to make the Espheni nervous. "By midseason," Eick teases, "our heroes find themselves trapped between their relentless enemy and a new alien force that proves to be much craftier and more intelligent than the Espheni."
Since Eick has pledged no more new alien species, fans have speculated on the possibility of a superior breed of Skitter, the Espheni's spiderlike minions who have harassed the survivors since the pilot. "That's certainly the implication," is all Eick will say.
As Falling Skies enters its final lap, a reflective Wyle says he's pleased that the series, along with its Sunday-night apocalyptic partner The Last Ship, has offered lots of "positive memes underneath" the violence. "The stories of both," he says, "are about the triumph of the human spirit, the ability to prevail in the face of adversity and human ingenuity in a time of crisis."
Of course, before any prevailing happens, expect plenty of explosions and some devastating casualties. "The final battle reminds me of what I love about the final conflict in the first Star Wars trilogy," says Eick. "It intercut elaborate battle scenes with one-on-one emotional standoffs. That idea is what we are reaching for with the series finale. To give the audience the excitement of the epic, but never leave the intimacy of two individuals facing off and the strength of one overcoming the other. It's going to get very personal."
Falling Skies, Season premiere, Sunday, June 28, 10/9c, TNT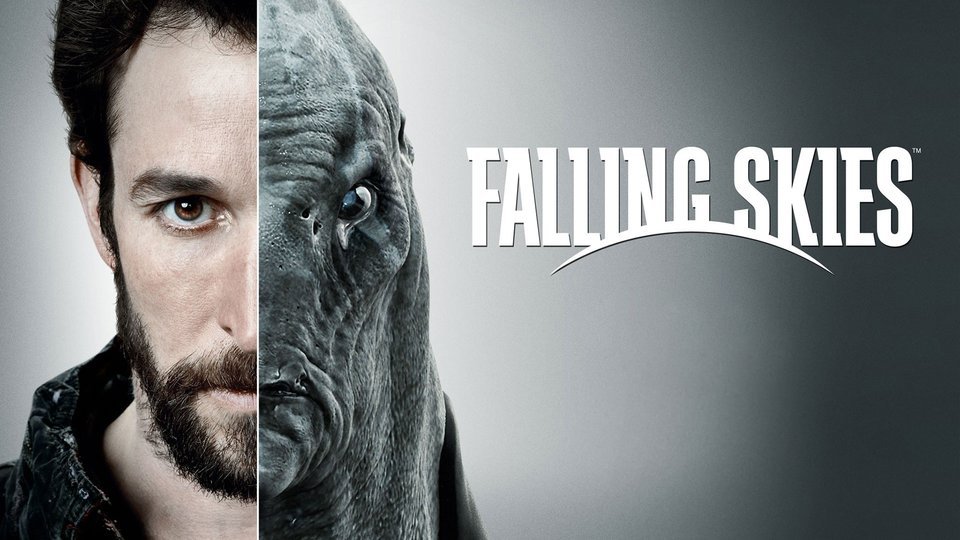 Powered by