Finale Preview: Could the Departing 'Orphan Black' Find a New Form as a Feature Film?
"Obviously it's a big deal for everyone involved," says Orphan Black cocreator and executive producer John Fawcett of the sci-fi series' finale. And he's not just talking about Sarah Manning and her fellow clones (all played by Tatiana Maslany, above, who won an Emmy for the multiple roles). "We all became a very close family, from the crew to the actors to postproduction," he says. "It's a huge emotional journey that we've all been through as people and as artists."
Of course, that doesn't compare to the journey that Sarah and her "sestras" have been on for the past five seasons. They have been hunted down by several factions—both the scientists who created them (the Neolutionists) and a fringe religious group who considers them an abomination. Their fight for full autonomy reaches its climax with the series' penultimate episode, while the finale, according to Fawcett, is primarily concerned with wrapping up the human stories of these characters.
See Also
Every wonder which Clone Club personality fits yours? Take our quiz to find out!
Fawcett says that from the beginning, he and cocreator Graeme Manson had an idea of how the show's overarching conspiracy concerning the Neolutionists would resolve. On the flip side, "I don't know that we knew exactly where the characters would end emotionally," he says. "I do think we knew how we wanted it to feel. Certainly, this show has had its darkness, it's had its tears. But I think one thing that's always been with the show is this strong sense of hope and optimism. I think it's a very emotional, touching ending for all the characters."
And while Fawcett and Manson wanted to get each character to a place where the audience would be OK with saying goodbye, in the age of the reboot, does goodbye ever really mean goodbye? "Graeme and I have talked about doing a feature film," Fawcett says. "I think we're both interested in that."

Orphan Black, Series Finale, Saturday, Aug. 12, 10/9c, BBC America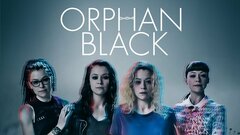 Powered by