Stephen King's 'Mr. Mercedes' Finds a Captive Audience (Network, That Is)
Unlike the horror tomes Stephen King is best known for, Mr. Mercedes marks the author's first foray into the hard-boiled detective genre. "This is the story about the horrors inside of people," says executive producer Jack Bender.
After a masked madman plows a stolen Mercedes through a crowd, the story leaps ahead to find the case's lead investigator, Bill Hodges (Brendan Gleeson), run down by booze and haunted by his inability to catch "Mr. Mercedes." But like the car that rattled so many, the killer comes crashing back into Hodges's world with a series of taunts, leading him into a cat-and-mouse tale that extends to a lonely salesman (Harry Treadaway), a computer-savvy local teen (Jharrel Jerome, above, with Gleeson) and the sister (Mary-Louise Parker) of the vehicle's owner.
Some of the more sordid content might scare off traditional TV outlets, but Bender says that AT&T is all in. "They're very proud of the show, so I'm hoping that it brings people to Audience because they're just starting out [with new shows], and it's a very crowded freeway out there."
Mr. Mercedes, Series Premiere, Wednesday, Aug. 9, 8/7c, AT&T Audience Network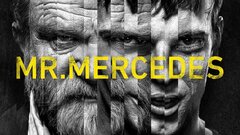 Powered by