Bachelor in Paradise Announces Its New Contestants
Bachelor in Paradise is back for a new season to help former The Bachelor and The Bachelorette contestants get their second chance at love. Kicking off with a two-night premiere on Sunday August 2 and Monday August 3, this season's cast is bound to make things interesting in Paradise.
Jillian Anderson
25, News Producer Washington, DC
Seen on: The Bachelor Season 19 (Chris)
Jillian won the mud run and a one-on-one date with Chris in Week 4, but did not score a rose that same night and was eliminated.
Ashley Salter
25, Hair Stylist, Alpharetta, GA
Seen on: The Bachelor Season 19 (Chris)
Ashley, also known by viewers as 'Onion Girl,' is known for her now-famous rant about how people are like onions in the season's premiere episode.
Jade Roper
28, Cosmetics Developer, Los Angeles, CA
Seen on: The Bachelor Season 19 (Chris)
Jade was one of the top contenders for Chris's heart and even invited him to meet her family, but was eliminated after revealing her wild side.
Carly Waddell
29, Cruise Ship Singer, Arlington, TX
Seen on: The Bachelor Season 19 (Chris)
Carly blew her chances with Chris after drama with former contestant Britt unfolded got the boot in Week 7.
Clare Crawley
34, Hair Stylist, Sacramento, CA
Seen on: The Bachelor Season 18 (Juan Pablo) and Bachelor in Paradise Season 1
After being eliminated by Juan Pablo, Clare's second shot at love –getting cozy with Zack on Bachelor in Paradise—didn't work out. You know what they say, 'Third time's a charm.'
Ashley Iaconneti
27, Freelance Journalist, Wayne, NJ
Seen on: The Bachelor Season 19 (Chris)
Viewers remember watching broken-hearted Ashley cry after Chris let her go on Week 6 after their drama-filled, two-on-one date with the controversial Kelsey.
Tenley Mohlzan
30, Nutritionist, Encinitas, CA
Seen on: The Bachelor Season 14 (Jake) and Bachelor Pad Season 1
It's no secret Tenley has had a rough ride on The Bachelor: she had her heart broken by Jake when he proposed to Vienna and then again by Kiptyn on Bachelor Pad.
Juelia Kinney
30, Full-Time Mom, Portland, OR
Seen on: The Bachelor Season 19 (Chris)
Juelia made viewers cry when she told Chris the story of losing her husband to suicide, but ultimately made Chris cry when he sent her home.
Mystery Woman
While we don't know her identity, we're sure this mystery contestant will make a splash in Paradise this season.
Dan Cox
32, Small Business Owner, Las Vegas
Seen on: The Bachelorette Season 9 (Desiree)
Dan's journey to love was cut short when he was sent home on Week 2 after failing to make a big enough impression on Desiree.
Kirk Dewindt
32, Personal Trainer, Minneapolis, MN
Seen on: The Bachelorette Season 6 (Ali) and Bachelor Pad Season 2
Kirk surprised viewers when he brought Ali home to meet his family and they ended up in his taxidermist father's basement. Taxidermy did not help him win Ali's heart in the end.
Mikey Tenerelli
33, Business Owner, Winfield, IL
Seen on: The Bachelorette Season 9 (Desiree)
Mikey climbed to the highest peak in Germany with Desiree when the cast traveled to Munich on Week 5. He was unable to reach Desiree's heart and was eliminated during the Rose Ceremony
These men will be joined by four yet-to-be announced members of the current season of The Bachelorette.
Bachelor in Paradise, Returns Sunday, August 2, 8/9 p.m. (ET/PT), ABC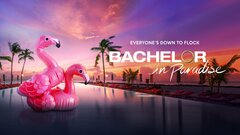 Powered by