'BoJack's Hidden Jokes: What You Missed in Season 2 (Part 2)
The visual world of Netflix's BoJack Horseman is perhaps the richest on TV. There are callbacks, set-ups, puns, minutiae that no one in their right mind would have taken the time to think up, much less animate. But that's part of what makes the wonderfully absurd universe of BoJack such a joy, and we'd be remiss in not pointing out every last clever little thing we could see, both for the benefit of you, the viewer, and to give props to the brains behind the show. Here's everything we noticed from Episodes 4-6. (Plus: The hidden gems of Episodes 1-3, Episodes 7-9 and Episodes 10-12)
Episode 4, "After the Party":
Mr. Peanutbutter has a vanity license plate that says "GOODBOY," because that's what he is, yes he is, yes he is. Diane's tote bag has an acronym that spells "Mole."
---
The signmaker Mr. Peanutbutter contracted took his instructions a little too literally.
---
Princess Carolyn has a vanity plate with "YOL9LVS," or "You Only Live 9 Lives." The car she almost hits has the license plate "Snd4elp." Also, Todd says people often confuse him for Octavia Spencer and the Prince of Cordovia. Remember that last one for Episode 7.
---
The books on Princess Carolyn's bookshelf include: How to Kill a Mockingbird, 50 Shades of Russian Blue, The Old Manx and the Sea, The Great Catsby, The Cat of Monte Cristo, Little Kitties, Best Wet Food Recipes, and, of course, Of Mice and Men.
---
Carolyn also has Clawsmopolitan magazine in her car. Oh, and according to Todd's phone, there are 4,032 fluid ounces in a barrel.
---
There's an ad for "St. Clair's" in the paper "Vincent" is reading. That's the department store that billionaire philanthropist Sebastian St. Clair owns. (We'll find out in Episode 9 why those muffs are so cheap.)
---
A) Mole word-play! B) Not only is the fish in a "Fish Happens" shirt clever, we'll be seeing him again later in the season. C) Where's Androcles when you need him?
---
A trucker wearing a trucker hat that says "Trucks," reading a magazine about trucks. Unfortunately, pleasestopfleas.gov does not exist.
---
Every time Diane pops a balloon, Mr. Peanutbutter has a split-second freakout.
---
Mr. Peanutbutter got a go-go dancer fish and a panda mime for Diane's party.
---
Things available for purchase at Diane's Starbucks:

-Frappe Flaps
-Fluidiccino
-Latte-in-a-Bowl
-Go-Go Beans
-1/2 Caramel 1/2 Espresso
-Skinny Sugarsauce
-Candy Bar Blend

Smoothies:
-Jazz Grains
-Cranberry Bland Swirls
-Every Berry
-Slaughtered Fruit
-Strawberry Cheese
-Nonfat Curds

Exclusive Special:
-Double-Startled Macchiato

-Pepperbeans
-Java Dangles
-Pumpkin-Rubbed Licuado
-Cinnamon Whip or Something
-Spiced Witchnuts

You can also:

Put more coffee in there for +$5.00
Replace coffee with cream for +$6.00
---
The signmaker must also have been the same person as the t-shirt printer.
---
Of course Mr. PB's pool is shaped like a bone.
---
Episode 5, "Chickens":
Told you Chicken 4 Dayz would be back.
---
The paparazzi birds are taking pictures of Ethan Hawke.
---
Stray balls from Diane's surprise party ball pit are still in Mr. Peanutbutter's office. Awards on Mr. PB's shelf include an Emmy, a BAFTA, and a Saturn Award. Also, what is presumably a "S(T)AG" Award.
---
Mr. PB's "#1 Fan" is a squirrel. Don't tell us that's not funny.
---
Todd's Great Ideas:

-Pancakes 2 go —> Wrapjacks
-Spice-of-the-Month Club
-Flan-Cakes
-Belgian Horse Circus —> Unicycle?
-Taffy Mountain
-Have Wacky Adventure
---
Hey, McGruff is still on the force!
---
This cat cop—Officer Meow Meow Fuzzyface—was also present when Todd was being served court papers by Disney in Episode 2. He's also doing a great impression of Tommy Lee Jones in The Fugitive.
---
Irving is definitely wearing Cher's skirt from Clueless.
---
The escaped Chicken 4 Dayz chicken is wearing Diane's bathrobe.
---
Tom Jumbo-Grumbo's ex-wife Shannon is a squid—perhaps the squid bartender from the seafood restaurant in Episode 2?
---
The car stereos that place sells are definitely not stolen. Also, they sell snail bonds (rather than bail bonds) in the BoJack universe.
---
We switch to a looser, hand-held style for Officer Fuzzyface's "loose cannon" scenes, in the style of gritty cop shows like Southland. Conclusion: one thing Officer Fuzzyface is not is a Hooker with a Heart of Gold.
---
BoJack regales Kelsey with the "Peeing in Drew Barrymore's Car" story. Getting a lot of mileage out of that one.
---
Kelsey's vanity license plate—"JCMP10N"—appears to be a shout-out to Top of the Lake director Jane Campion. Or maybe we're reading too much into things.
---
In the course of this episode, another billion people ate at Chicken 4 Dayz. (Also, the giraffe is holding the ladder.)
---
Episode 6, "Higher Love":
"You look like a woman from an '80s deodorant commercial," Mr. Witherspoon tells Princess Carolyn. Here, just before, we see her with pit stains (happens to everyone).
---
Black Mamba Juice! (Also, the boy jumping rope has a Hank Hippopopalous shirt on.)
---
Officer Fuzzyface and the Dalmatian from the firehouse are having a stare-off.
---
A visual representation of the fleeting nature of fame: Bellican's is no longer trying to profit from being BoJack's watering hole.
---
An Actress Or Something is filling in for Some Lady on Morning Time Hollywoo.
---
Shoe company animal puns: Timberwolf, Under Otter, Armadidas, Newt Balance.
---
Oh, hi, Girl from BoJack's Date Montage in Episode 2, whose name is apparently Claire.
---
This horse agent is on some kind of Food Tinder, it looks like: apple, then hay.
---
Three people ("people"?) press the elevator call button: a lobster, the chameleon from one of BoJack's dates in Episode 2, and some regular human.
---

The agents at Vigor think an all-male Hocus Brocus Brocus Pocus is a great idea.
---
Mr. Peanutbutter is the last available client to pick up. The adult cast of Jurassic Park—Sam Neill, Laura Dern, Jeff Goldblum, Samuel L. Jackson and Wayne Knight—were all taken.
---
Diane has had a craft services run-in with this crew-codile before, back in Season 1 (second photo). The PA in the "Misprints" t-shirt in the second photo can also be seen in the background of every film shoot on the show.
---
The mosquito at the table with a girl starts drinking her blood.
---
BoJack—or more likely Todd—receives Couch Surfer Magazine.
---
Todd is eating messier and messier things out of his "Bagel Catcher": Bagel, nachos, spaghetti (with chopsticks).
---
…But like an animal version.
---
Even notorious recluse JD Salinger says "Hollywoo."
MORE
How many of BoJack Horseman's hundreds of hidden jokes, puns, sight gags and pop culture references did you spot? See what you missed in Episodes 1-3, Episodes 4-6, Episodes 7-9 and Episodes 10-12.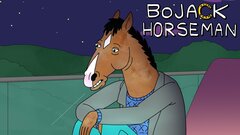 Powered by