Can TLC Survive Its Duggar Problem?
TLC is finding it hard to escape the sins of the past. Meeting with reporters this spring, network chief Marjorie Kaplan promised to change the channel's reputation as a "freak show." TLC's schedule has included series like I Didn't Know I Was Pregnant, Sex Sent Me to the ER, and My Strange Addiction. Last year, controversy erupted after it was revealed that Here Comes Honey Boo Boo matriarch "Mama June" Shannon was in a relationship with a registered sex offender, which led to the show's cancellation.
Announcing its more positive approach, TLC touted the success of 19 Kids and Counting, featuring the ever-growing Duggar family. The show was TLC's most-watched series of the 2014–15 season, averaging three million viewers, but the revelation that son Josh Duggar, 27, allegedly molested five young girls as a teen leaves TLC with another imploding hit.
One reality agent says controversy should be expected when hiring larger-than-life people. "You don't cast normal people; you cast extreme people," he says. "You already know there's a screw loose. [Having 19 kids] is not a logical thing to do."
TLC pulled 19 Kids reruns from the air (Hulu did the same with streaming episodes) and is reportedly considering replacing the show with a spinoff featuring daughters Jill, Jessa, and their new families. But with advertisers like Walmart, CVS, and H&R Block withdrawing support, it seems likely that TLC will eventually part ways with the Duggars altogether. Not only could future shows face advertiser and viewer boycotts, but the family has also become a political hot potato. That may be why TLC is taking a beat before making a move, having seen how A&E was pilloried by right-wing groups after suspending Duck Dynasty patriarch Phil Robertson over offensive comments.
Republican presidential candidates are being asked to weigh in on Josh Duggar, and conservative-leaning family members have been called hypocrites for preaching so-called family values. TLC likely doesn't want to wade deeper into that political minefield.
"I don't think TLC has any interest in being in business with anyone with [an unsavory] kind of background," says one insider. But as long as reality shows exist, scandals will be ready to bubble up. "There are many wild, loose cannons out there," says the insider. "The media has barely scratched the surface."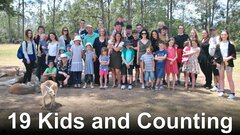 Powered by