Critic's Notebook: UnReal Takes Down The Bachelor, The Whispers Has Possibility
Reality—what a tarnished concept. You'd have to be hopelessly naïve not to suspect a high level of fakery in the reality-TV worlds concocted by beyond-guilty pleasures like The Bachelor, the ubiquitous Real Housewives franchises, and anything involving a Kardashian. Even so, Lifetime's darkly entertaining dramedy UnReal (Monday, 10/9c) is stunningly brutal in its bawdy cynicism, taking us inside the control room of a Bachelor-style dating show (titled Everlasting) where heartlessly devious emotional manipulation is the rule of order.
"Leave your conscience at the door on this one," barks UnReal's behind-the-scenes villain, caustic executive producer Quinn (the fabulous Constance Zimmer), who's constantly urging her ace producer Rachel (Shiri Appleby) to betray confidences and otherwise do what it takes to "get me some good TV." Which typically translates to bad, bitchy behavior. Humanity? Left on the cutting-room floor.
The endearing Appleby lets us see Rachel's soul shrivel every time she reluctantly transforms a beauty into a bitch, but as her cameraman ex-boyfriend (Josh Kelly) observes, "You wouldn't be here if you didn't like the taste of blood." Same goes for the viewer of such trash, obviously, who might even benefit from the heightened reality check provided by this vicious melodrama.
UnReal is most enjoyable when it's at its nastiest, and least convincing when it's doling out a more earnest style of soap-opera subplot, including Quinn's sordid affair with Everlasting's coke-fiend creator (Craig Bierko). Still, if you end up never watching The Bachelor the same way, can't say that would make this critic un-happy.
UNIDENTIFIED FRIENDLY OBJECT: Kids do the darndest, and creepiest, things in ABC's The Whispers (Monday, 10/9c), a supernatural thriller that gets off to a terrifically chilling start. An adorable little girl named Harper (Abby Ryder Fortson, so cute she's scary) is talking to an unseen presence, an imaginary "friend" she calls Drill, who's teaching her the rules to what turns out to be an especially treacherous game. Turns out she's not the only kid in cahoots with the mysterious Drill ("He speaks through the lights some times"), and as long as The Whispers has us believing we're watching a new iteration of Children of the Damned, so far so good.
But then the grown-ups get involved, many of them involved in government, including military and nuclear matters, and the show begins to spin its conspiracy wheels in a much less fresh manner. The fine stage actress Lily Rabe (American Horror Story) takes center stage at this point as FBI child specialist Claire Bennigan, a military widow with a deaf son and a tangled back story that involves Wes Lawrence (Revenge's deadly dull Barry Sloane), a Defense Department agent whose own super-sweet daughter Minx (Kylie Rogers) is being coached by Drill in the fine art of hacking. Factor in a scraggly amnesiac John Doe (Milo Ventimiglia), who obviously has some connection with the weird events happening here and maybe even in the remote African desert, and it sounds like a call for The X-Files' Mulder and Scully. Unfortunately, we're stuck with weepy Claire and stony Wes for now. But I may stick with The Whispers regardless, if only to see what the eerie little pawns in this game do next.
A NEW DIRTY HARRY: If you're the least bit interested to see how the conventions of TV crime drama translate to other cultures, consider adding the unflinchingly pungent police drama Harry—think a New Zealand Luther—to your already swelling streaming queue. Acorn TV, which specializes in British and Down Under mystery and drama, presents this taut six-part escapade (the first two hours premiering Monday), starring the bald and bristling Oscar Kightley as the title character.
Harry Anglesea is a top New Zealand detective who's hit emotional bottom after the death of his wife. Eager to return to work after a four-week hiatus, but given only a "graduated" clearance by the department shrink, Harry immerses himself in a violent drug-related murder case that unleashes the requisite complement of personal demons. As Harry struggles with grief and rage issues—and a wayward teenage daughter—while pursuing a savage group of criminals, his boss (the reliable Sam Neill) frets about his friend and the reputation of his department. After one setback, he moans, "Major crime is now the laughing stock of every officer in the district." But Harry's not amused, and the angrier Harry gets, the more compelling Harry becomes.
UnReal premieres Monday, June 1, 10/9c, on Lifetime
The Whispers premieres Monday, June 1, 10/9c, on ABC
Harry premieres Monday, June 1, on Acorn TV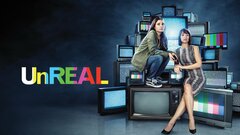 UnREAL
where to stream
Powered by