First Look: Lifetime's 'The Watcher in the Woods' Remake Comes out of Hiding (VIDEO)
"It's not the woods whispering to you…it's the Watcher."
Just those words, uttered by Anjelica Huston, are enough to send shivers down the spines of anyone who remembers the 1980 Disney horror flick, The Watcher in the Woods, which starred Bette Davis, Lynn-Holly Johnson and a pre-Real Housewives Kyle Richards.
The weirdly eerie tale of a family that moved to a country home beset by supernatural occurrences around it has now been rebooted and refurbished by Lifetime, with Melissa Joan Hart directing and co-producing along with her mother, Paula Hart. And we have the exclusive first-look trailer for you, right here!
This time around, the haunting action takes place in the Welsh hamlet of Northrop, where a local legend about a missing girl seems to fire up after young Jan Carstair (Tallulah Evans) and her family relocate there from the States. Throw in Oscar winner Huston as the scariest neighbor possible, a Black Plague-inspired nursery rhyme and a forest nobody should be going into at night, and you have one of those TV-movies made for October screaming … errr, screening.
The Watcher in the Woods, Saturday, Oct. 21, Lifetime.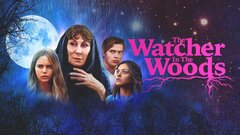 Powered by