ESPN's Bill Simmons lands on HBO with his own talk show The fired ESPN personality and columnist will host a weekly talk show on HBO starting in 2016 that will feature personalities from the world of sports and pop-culture. Simmons' deal also calls for "a comprehensive partnership on a variety of platforms between the network and Simmons," including podcasts and, likely, documentaries.
Dean Haglund announced via Twitter that, he, Tom Braidwood and Bruce Harwood will reprise their fan favorite roles.
Just 1.7 million watched the star-studded debut of Seacrest's new reality show.
Airing next summer, Robert and Michelle King's new series will follow a young staffer on Capitol Hill is shocked to learn that alien spawn have eaten the brains of members of Congress and other political figures.
The Whispers star, who's appeared in all four previous seasons, is in talks to play a famous murderer on the Hotel season.
British actor Jimmy Akingbola has been cast in the role of DC Comics character Baron Reiter.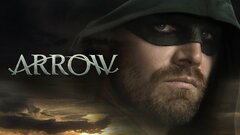 Arrow
where to stream
Powered by