Public Morals: Cops Meet Mobsters, Glitz Meets Grit (Summer Preview)
Edward Burns is concerned. The actor-writer-director who spent the last two decades making low-budget, niche films is in a Greenwich Village sound-mixing studio putting the final touches on TNT's 1960s Manhattan-set cops-and-mobsters saga Public Morals. Currently on his mind are the show's opening credits—a half-minute montage of guns, gelt, gamblers, dancing girls, and lit-up marquees. Burns wants to be sure the sequence makes New York City look like a place you'd happily go to forfeit your morals.
"Does it feel dark and ominous or fun and exciting?" he asks. "The show is dark, but it's also about the other side of gritty street life. New York was a crazy town. Mayor Lindsay called it Fun City, and we kept reminding ourselves of that during the shoot."
Burns plays Terry Muldoon, a father of three and a plainclothes cop in the NYPD Public Morals Division. His team polices prostitution, boozing, illegal card games, and after-hours partying, which are run in Terry's Hell's Kitchen neighborhood by gruff Irish kingpin Joe Patton (Brian Dennehy). Terry's squad, which includes his cousin Sean (Austin Stowell), doesn't exactly fight these crimes; instead they regulate them, getting favors in return. But then Sean's dad, Mr. O (Timothy Hutton), who runs numbers for the mob, makes a big mistake. Enter Patton's son, Rusty (Neal McDonough), a psychopath with a hair-trigger temper. "Because of Rusty, Patton's life keeps getting more complicated and it jeopardizes his legitimate businesses," Burns explains. "And now there's a turf war." Adds Aaron Lubin, Burns's longtime producing partner, "Our show, in many respects, is a family drama dressed up like a crime drama."
The series owes its existence to Burns's childhood as the son of an NYPD officer; his dreams of making both a period cop movie and an old New York gangster flick; his role in TNT's crime drama Mob City; and Steven Spielberg. The genesis of the series took place 18 years ago, when Burns was costarring in Spielberg's Saving Private Ryan. He mentioned to the director that he'd thought about using his dad's experiences in a film script about an Irish- American cop family; soon Spielberg was paying him to write it. The movie was never made. Later, Burns optioned William Kennedy's novel Legs, about 1920s Irish-American mobster Jack Diamond, hoping to turn it into a gangster film. That didn't happen either.
Then, as Burns was wrapping Mob City, TNT executives asked him whether he'd consider pitching them a TV show. "I thought, 'Why don't I just marry the world of the cops and the world of the gangsters and put them on the West Side?'" he says. Spielberg, who was connected to TNT through Falling Skies (via his Amblin Television), signed on as an executive producer.
Priority one when it came to casting was to find actors who sounded like real New Yorkers. "I said, 'I don't want anybody coming in doing a crazy accent. If they're not from here, we'll write it into their backstory to explain away their non-accent,'" Burns says. New Jersey native Elizabeth Masucci, who plays Terry's wife, had to work to get hers back: "When I was 16, I went to a speech teacher," she says. "She was like, 'You need to get rid of that accent.' And now that's what I'm using."
Masucci had better keep practicing. Burns, who wrote and directed all 10 episodes of the first season, has a 180-page document full of more story ideas. "If this goes well," he says, "I may never make another independent movie again."
Public Morals, Series premiere, Tuesday, August 25, 10/9c, TNT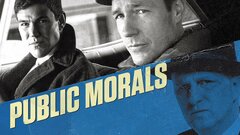 Powered by