Pretty Little Liars: Does This Deleted Scene Fuel a 'Charles' Theory? (VIDEO)
OK, kids. Pretty Little Liars kicks off its sixth season Tuesday—the same day Warner Bros. Home Entertainment releases Season 5 on DVD. But if you can't wait to revisit all 24 episodes and the bevy of extras (including the fan-appreciation piece, "We Love You to DeAth," and a salute to the guys of Rosewood), we have an exclusive first look at one of the deleted scenes the set will include:
[jwplatform 4KMl9FLQ]
In the bit, Aria (Lucy Hale) is seen snooping around her brother Mike's bedroom when hot Andrew Campbell (Brandon W. Jones) and his giant biceps suddenly pop in, claiming that the Montgomery home's door was open.
Or was it?
There are a lot of folks who suspect the friendly hunk—who shares the same last name as the farm close to A's lair— might actually be "Charles," the masked man keeping our girls hostage. Adding to the evidence: he listened in on Mama Hastings' phone calls, he's way too nice to be trusted, and there is no way this guy is a high schooler! So it is very possible he is secretly older and was at the same years-ago prom that "Charles" recreated in his giant dollhouse hideout, which would make him about the same as Melissa Hastings (Torrey DeVitto) and Jason DiLaurentis (Drew Acker). Is Andrew the long-lost tot we saw in that DiLaurentis home video?!
Pretty Little Liars, Season premiere Tuesday, June 2, 8/7c, ABC Family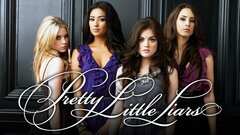 Powered by