Aarón Sanchez Takes on 'MasterChef' (and Shares a Shrimp Ceviche Recipe!)
There are many pretenders to the throne, but celebrity chef and restaurateur Aarón Sánchez is the true king of Mexican cuisine. Now he's bringing his sharp and peppery expertise to Fox's MasterChef as the new judge alongside Christina Tosi and Gordon Ramsay.
You've competed on some killer food-fight shows—Iron Chef America, The Next Iron Chef, Chopped All-Stars. Does that make you a more compassionate judge, especially with home cooks who screw up under pressure?
I believe it does, and I share with them the secrets I learned from being in competitions: Rely on your strengths. Express who you are. Commit to your dishes unconditionally. But here's the thing about MasterChef: Even if you have a bad day in the kitchen, you have an opportunity to fight again. Just like in life.
Only in life, we're not being yelled at by Gordon Ramsay. [Laughs]
Hey, we're not going to give you a quarter of a million dollars easily!
Could you have weathered the wrath of Ramsay when you were a young wannabe?
I think I would have held my ground with him, but understood my station. I've experienced a lot of chefs who are even more excessive than Gordon. But Gordon does not scream—or, perhaps I should say, speak passionately —in order to be cruel or demeaning. He does it only to make you a better cook. I hope everyone is clear on that.
Your mom, famed New York chef Zarela Martinez, sent you to New Orleans at age 16 to study with the late, great Paul Prudhomme. Wasn't that overwhelming?
Yes, considering how much we coddle our youth nowadays. But it was all about building my character and making sure I was prepared for life. I was scared and uncertain, but it made me a better person.
You've stayed focused on Mexican food. How do you feel about so many hotshot chefs moving into your territory?
Hey, I welcome all competition. [Laughs] Mostly because there is no better Mexican food than what we serve at Johnny Sánchez [his restaurants in New Orleans and Baltimore]. But I do joke that it's apparently OK to be an American guy from, say, South Carolina and open up a Mexican restaurant. But if, God forbid, I were to open an Italian restaurant, people would be going, "Whaaat?" They would think I'm a knucklehead.
MasterChef, Wednesdays, 8/7c, Fox
Aarón's Shrimp Ceviche
"Traditional ceviche is basically fish, lime juice, onion, chili, love you, bye," ­Sánchez says. "Why not elevate this classic dish? This recipe—great for a crowd—goes beyond the essentials with surprising ingredients like oranges and coconut milk."
Serves 12–15
INGREDIENTS
8 cups water
3 tbsp. salt
1 bay leaf
1 tsp. coriander seeds
4 oranges
6 limes
3 lb. shrimp, raw and peeled
3 habanero chilies, grilled or roasted
½ cup rice wine vinegar
1 16-oz. can coconut milk
Extra virgin olive oil
Chopped cilantro
Sea salt to taste
½ cup pickled onion
Chives
DIRECTIONS
In a saucepot, combine water, salt, bay leaf, coriander and juice of 2 of the oranges and 2 of the limes. Bring to boil. Add shrimp and cook 2 minutes. In a bowl, create an ice bath with ice, water and juice of 2 more limes and oranges. Place cooked shrimp in an ice bath for 2 to 3 minutes. Take shrimp out of ice bath. In a blender, combine chilies, vinegar, coconut milk and juice of 1 lime. Puree until smooth. Pour a cup of this mixture over shrimp, add 2 tablespoons of olive oil and juice of remaining lime. Add some cilantro and sea salt to taste. Mix well. Serve in a bowl garnished with pickled onions, chives and remaining cilantro.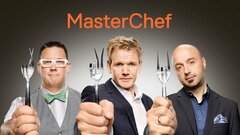 Powered by