Roush Review: A Gorgeous But Glacially Paced 'Last Tycoon'
In the streaming world, there are shows designed for obsessive binge-watching (see Netflix's Ozark), and others more suited to an indulgent wallow. The Last Tycoon falls into the latter category. It's absolutely gorgeous to behold in its sumptuous re-­creation of 1930s Hollywood glamour, yet glacial in pace, only sporadically catching dramatic fire over nine episodes based on F. Scott Fitzgerald's unfinished final novel, reflecting a love-hate relationship with the dream factory's hypocrisies.
Tycoon is most engrossing when, Mad Men–style, it reveals the darker side of a romanticized time, depicting the clash of wills within a struggling Depression-era studio between Jewish golden-boy executive Monroe Stahl (an ethereal Matt Bomer) and blustery boss Pat Brady (a smartly restrained Kelsey Grammer), whose insecurity leads him to pander to the pre-war Nazi Germany marketplace.
"Ordinary is the enemy," declares Monroe, but despite its seductively swanky surface gloss, this series doesn't burrow deep enough often enough into its fascinating milieu to qualify as extraordinary. (An exception is a storyline featuring Jennifer Beals as a powerful movie star hiding a secret that could derail her career.)
Rosemarie DeWitt (La La Land, Mad Men) steals every one of her scenes as Brady's dissatisfied wife, Rose, who like most of the women in the series is head over heels for Monroe—including her earnestly ambitious daughter Celia, simperingly played by Lily Collins. On her way to yet another movie preview, Rose scoffs: "It's like surgery, but without the anesthetic." If everyone could channel the period attitude with her brio, this could have been a timeless classic.
Subplots involving institutional racism and the burgeoning union movement, and appearances by real-life figures (MGM mogul Louis B. Mayer, exotic superstar Marlene Dietrich, despotic director Fritz Lang), add meat to the heightened soap opera of Monroe's infatuation with an enigmatic Irish lass (Dominique McElligott) he insists on molding into a star. That's a premise straight out of Turner Classic Movies—which only makes sense, given the subject.
The Last Tycoon, Series Premiere, Friday, July 28, Amazon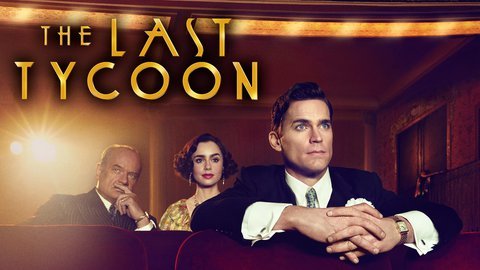 Powered by