'Superior Donuts' Star Jermaine Fowler Takes Our Blind Donut Taste Test (VIDEO)
CBS's freshman comedy Superior Donuts follows a small Chicago donut shop and its owner, Arthur (Judd Hirsch), who hires the young artist Franco (Jermaine Fowler) to manage his day-to-day struggles alongside a comical group of dedicated patrons. Donuts doesn't just bring the laughs, though—it'll also leave you hankering for your favorite donut.
In Monday's Season 1 finale, "Secrets and Spies" (the show has already been renewed for Season 2!), the group is betrayed when they find out that college student and regular customer Maya (Anna Baryshnikov) has been studying the Donuts gang all year for her dissertation. Also, Franco and Randy (Katey Sagal) go on a mission to discover where Arthur mysteriously goes every Sunday.
When Fowler stopped by TV Guide Magazine's offices recently, he talked about working with Hirsch and what's to come on the series, and even participated in a blind donut taste test to see if his onscreen job has had any effect on his tasting skills. Do-nut worry, it'll only make you a little hungry.
Take a look at the video below to see how many Fowler got correct!
Plus: Our interview with Fowler, where he discusses working with Hirsch and Season 2.
Superior Donuts, Season Finale, Monday, May 8 at 9/8c on CBS.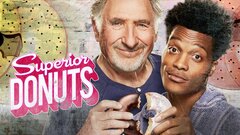 Powered by