What's On: 'Suits' Returns, the ESPYS, 'Salvation,' a 'Carmichael' Intervention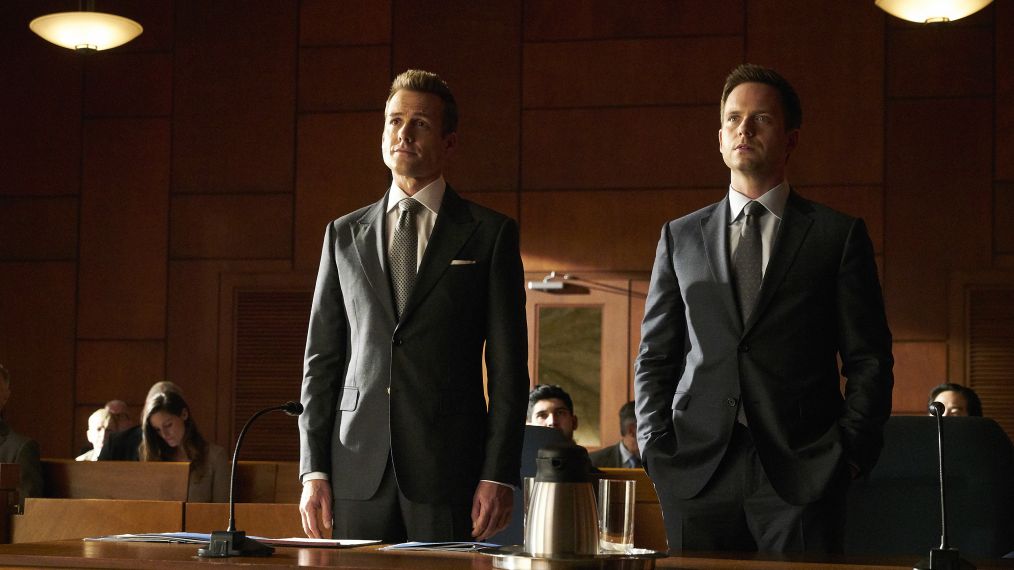 Suits (9/8c, USA): Consider the start of the legal drama's seventh season something of a reset. Mike (Patrick J. Adams) is now a bona fide lawyer, returning to Pearson Specter Litt with Harvey (Gabriel Macht) now running things. Louis (Rick Hoffman) is back to his old bullying self, in charge of a new class of associates, and thankfully Donna (Sarah Rafferty) and Rachel (Meghan Markle) are still around to provide support, perspective and a reality check. After all of the dire drama of recent seasons, it's good to see the show return to its roots.
The 2017 ESPYS (8/7c, ABC): Peyton Manning hosts the 25th annual sports celebration from L.A.'s Microsoft Theater, a ceremony that often looks beyond the playing field to honor those with inspiring achievements. Highlights include Michelle Obama presenting the Arthur Ashe Courage Award posthumously to Special Olympics founder Eunice Kennedy Shriver, with son Timothy Shriver accepting in what's certain to be an emotional moment. Former Daily Show host Jon Stewart presents the Pat Tillman Award for Service to USAF Master Sgt. Israel Del Toro, who was seriously injured in a 2005 explosion while serving in Afghanistan and turned to adaptive sports during his rehabilitation, going on to set world records in shot put, discus and javelin, winning a gold medal at the 2016 Invictus Games.
The Carmichael Show (9/8c, NBC): Once again, this outspoken family drama brings another serious social issue into focus, when an argument between Bobby (Lil Rel Howery) and estranged wife Nekeisha (Tiffany Haddish) over her drinking leads to an intervention and a debate over how to handle stress without getting loaded.
Salvation (9/8c, CBS): Seems like just about every summer, CBS puts the world at risk with a new sci-fi thriller. And while I preferred the tongue-in-cheek antics of last year's alien-bug romp BrainDead, I'll keep an open mind for now about the extinction-event melodrama of Salvation, which plays it very straight. "In 186 days, an asteroid is going to collide with Earth and we're all going to die," is how MIT whiz kid Liam (Charlie Rowe) breathlessly announces the show's high concept to dashing tech mogul Darius Tanz (Santiago Cabrera). Together with Pentagon insider Grace (Jennifer Finnigan), they collaborate on a secret mission to stop the planet-killing space bomb from wiping out humanity. If they can get past the usual conspiracy red herrings, and dialogue like this from Grace's daughter Zoe (Rachel Drance): "You're not going to be able to make the world safe for me, so please stop trying." If she only knew.
Broadchurch (10/9c, BBC America): So many suspects in this season's sexual-assault case, and the more detectives Hardy (David Tennant) and Miller (Olivia Colman) burrow into the mystery, the wider the net becomes. "You know what bothers me about this case?" sputters Hardy. "It makes me ashamed to be a man." But what shame is the victim hiding? Or her estranged ex? Such questions haunt this excellent British series which excels at dramatizing the emotional impact of crime, and even years after the death of his son in Season 1, Mark Latimer (the excellent Andrew Buchan) is trying to get justice, even if it requires a civil prosecution.
Inside Wednesday TV: Turner Classic Movies' twice-weekly July spotlight on Alfred Hitchcock moves into the 1940s, with best-picture winner Rebecca (8/7c) leading the lineup. … The third season of Bravo's bitingly funny Odd Mom Out (10/9c) begins in the wake of the wealthy Upper East Siders being financially wrecked by a Madoff-like scheme. Jill (Jill Kargman) and hubby Andy (Andy Buckley) were spared, but with mom-in-law Candace (the outrageous Joanna Cassidy) drowning her sorrows in their already crowded apartment, they're still paying a price. … Trying for a similar vibe, but trying too hard, truTV's I'm Sorry (10/9c) premieres with back-to-back episodes, showcasing snarky Andrea Savage as an obnoxious L.A. comedy writer, wife and mom prone to embarrassing social situations. Any show that opens with a precocious daughter making vagina jokes may make you sorry to have tuned in. I know I was.