Watch: The 'Zoo' Gang Encounters a New Hybrid and It Is Not Happy
In a world where there are no children under the age of ten and the U.S.'s west coast is a ruin hunted by vicious hybrid animals with prehistoric DNA, (which makes for terrific CGI beasts!), Zoo's heroes have been working to find a cure for infertility while saving humans from the monsters all around them.
In the prior crazily action-packed episode, Reidal Global corporation thugs had kidnapped young Isaac (Jesse Muhoozi) the son of Abe (Nonso Anozie) and Dariela (Alyssa Diaz) for some nefarious purpose; scientist Mitch (Billy Burke) just revived from a decade in stasis was reunited with his real daughter Clementine (Gracie Dzienny) after the imposter was killed; and we discovered that Jackson Oz (James Wolk) has been posing for years as a do-gooder named Dylan Green while he learned he had a sister named Abigail (Athena Karkanis) who seems to be the NYC bomber. Got all that?
In this exclusive clip from the Thursday, July 13 episode, "Ten Years Gone," Jackson, his girlfriend Tessa (Hilary Jardine) who knows him as Dylan, and mercenary turned cop Logan (Josh Salatin) are out West hunting for a hybrid rhino/prehistoric wooly mammoth to obtain a gene sample. What they stumble upon seems to be much, much scarier than some lumbering mammal!
Also in the episode: Abe and Dariela consider making a deal with Reiden Global to help Isaac, while Clementine, and Mitch's onetime love Jamie (Kristen Connolly), must perform a risky surgery to save him.
Zoo, Thursdays, 10/9c, CBS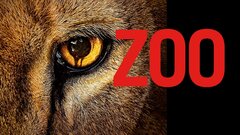 Zoo
where to stream
Powered by