Netflix Releases Poster Art and Official Premiere Date for 'Stranger Things 2'
On Tuesday, Netflix announced the official date for Season 2 of its nostalgic, '80s-set sci-fi drama Stranger Things. Stranger Things 2 will be available on the streaming service Oct. 27, just before Halloween—appropriately enough for the creepy series. A trailer for the new season that aired during the Super Bowl a few months ago indicated that it was coming around Halloween, so the timing isn't entirely a surprise.
Along with the premiere date announcement, Netflix also revealed the pretty cool key art for Stranger Things 2 that you can see below. The image shows our young heroes looking off toward a very ominous horizon filled with red, menacing clouds and something apparently even more menacing lurking within them. It's a nice nod to poster art of the '80s, particularly capturing the sort of Spielbergian sense of mystery, wonder and potential dread from films of that era that the series itself has effectively re-created and evoked.
The announcement of the date from Netflix came in an email featuring a breakdown of the timeline of Stranger Things events:
"1953, date unknown – MKUltra comes to Hawkins and begins experimentation
1979 – Police Chief Jim Hopper returns to Hawkins
1983, November 6 – The vanishing of Will Byers
1983, November 8 – The vanishing of Barbara Holland
2016, July 15 – Part 1
2017, October 27 – Part 2″
See Also
Think you're the biggest 'Stranger Things' fan? Take our quiz to prove it!
A Stranger Things 2 plot synopsis from Netflix reads:
"It's 1984 and the citizens of Hawkins, Indiana are still reeling from the horrors of the demagorgon and the secrets of Hawkins Lab. Will Byers has been rescued from the Upside Down but a bigger, sinister entity still threatens those who survived."
Season 1 of Stranger Things was widely acclaimed for its thrills, nostalgic elements and the acting of its mostly young ensemble (the cast won the Outstanding Performance by an Ensemble in a Drama Series award at the Screen Actors Guild Awards earlier this year).
See Also
The creators of the Netflix megahit talk about being parodied on SNL and how Barb's popularity took them by surprise.
Stranger Things 2, Season Premiere, Oct. 27, Netflix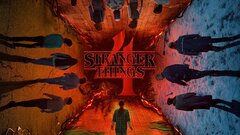 Powered by