Netflix Debuts 'Stranger Things' Season 2 Trailer During Super Bowl 51 (VIDEO)
The kids of Stranger Things are back and they have upped the creepiness factor!
Netflix premiered a teaser for the second season of Stranger Things during the second half of Sunday's Super Bowl LI. The 30-second spot for the sci-drama opens with a memorable 1980s Eggo commercial ("Let go my Eggo") and goes bonkers from there, flashing between scenes of the kids wearing Ghostbuster uniforms; Jim Hopper digging; and an ominous red-tinged sky with a shadowy figure looming.
Missing from the trailer: Barb. (May she Rest In Peace.)
RELATED: The Duffer Brothers Preview Stranger Things Season 2
Between the scenes a message appears: "The world is turning…upside down." (We can only assume this is not a Hamilton reference.) Then, finally, a date: "Halloween." October 31, 2017 is many months away, which gives all of you who missed out on the first season—where a young boy goes missing and his friends embark on the ultimate adventure to find him—plenty of time to catch up.
What can fans expect when the show returns? The Duffer Brothers spoke to TV Guide Magazine last year about the show's future. "We're really excited about it. A good part of the story is focused on Will," said Matt Duffer. "He was obviously in the Upside Down for a while, so it is about what kind of effect it had on him when he came out of it. Season 2 is more of a gradual build. It feels different, and we like that it has a different build and structure."
Watch the spot below: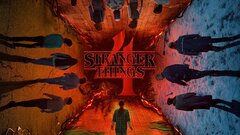 Powered by