The Roush Review: Mad Men Finale's (Im)perfect Harmony
So after seven seasons of angst, it was Don Draper who taught the world to sing in perfect harmony? The praises of Coke, that is—though in reality, it was an ad man named Bill Backer who came up with the concept for that tuneful hands-across-the-world refrain. But score one for Lost Boy/Sad Don Draper, as a cymbal—symbol?—ping of enlightenment goes off while Don (Jon Hamm) chants "OM" in a moment of blissful Zen on a cliff-top meditation retreat, cueing up as ironic contrast the classic soft-drink anthem as Mad Men fades into memory.
The real question, of course, is whether fans will be singing the praises of writer-director Matthew Weiner's final chapter. There will undoubtedly be griping—some deserved, especially about Don's extended detour into the annoyingly clichéd world of touchy-feely group therapy, dragged there by Anna Draper's niece Stephanie, of all minor characters. When the soliloquy of an invisible-to-all milquetoast named Leonard ("It's like no one cares that I'm gone") triggers a weepy epiphany, it felt indulgent and not entirely necessary, especially given the power of Jon Hamm's performance in an earlier scene when Don broke down over the phone (where much of the episode's best moments occurred) with Peggy, telling the co-worker with whom he had shared the series' most memorable dark night of the soul (2010's "The Suitcase") that, "I'm not the man you think I am."
As he confessed his sins—"I broke all my vows, I scandalized my child, I took another man's name and made nothing of it"—Don's sorrow and self-loathing was palpable, another reminder of how inconceivable it is that Hamm may retire this role without ever winning an Emmy. Hamm was just as effective in the episode's most heartbreaking scene, another "Person to Person" (the episode's title) phone conversation, this time between Don and ex-wife Betty (January Jones), who's dying of lung cancer and none too happy that daughter Sally (Kiernan Shipka) spilled the beans to her dad. As she insists she doesn't want or need Don there, for her or their children's sake, the reality of the mess he's made of his life truly sinks in, and there ultimately are no words as Don and his Birdie choke back tears of regret. (Don's rejection by family continues when Stephanie, one of the few who sees him as Dick Whitman, splits on him without saying goodbye.)
Hamm made the most of his moments, although he—or maybe it was Don, or maybe it was us—seemed to wish he'd been spending this final hour anywhere else. Like maybe back in the company of his actual co-stars.
The episode was much more enjoyable and satisfying when on its home turf of New York and the ad world. Roger (John Slattery), always good for some comic relief, finally commits to Megan's drama-queen mother (Julia Ormond), griping after one of her French tirades, "Yell at me slower, or in English!" The fabulous Joan (Christina Hendricks) chooses a great business opportunity—she wants to be a producer!—over yet another cad (Bruce Greenwood) who'd rather she devote all her attentions to him. Coke, or in their case cocaine, may add life, but nothing beats self-empowerment. "I've been to the beach," Joan says dismissively when offering Peggy a partnership: "We won't answer to anyone," she promises, eyes gleaming with purpose. After Peggy balks, Joan thrives at being her own boss. (Her company is called Holloway-Harris, pairing her maiden and married surnames.)
But it's Peggy (the wonderful Elisabeth Moss) who gets the happiest ending, if a sudden rom-com declaration of love-hate attraction with bearded colleague Stan (Jay R. Ferguson) is a twist you're willing to buy. Having told Peggy, "There's more to life than work" after she once again insults him, Stan pledges his love the next day, earning a big fat disbelieving "What?!?!" from Peggy before she relents with an eager kiss. Don's daffy and displaced secretary Meredith was on to something when she noted, "There are a lot of better places than here" when talking of the shark's den of McCann-Erickson her boss had left behind, but try telling that to this team, who discover that life and work—and love—don't have to be mutually exclusive.
Even though tragedy continues to loom for Betty, who's still smoking at the kitchen table while Sally tends to the housework, the tone of the finale was generally more upbeat than we might have expected. Neither the best nor worst of Mad Men episodes, and neither the best nor worst of series finales, at least this was a true ending, perfect harmony or not.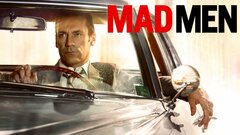 Mad Men
where to stream
Powered by