Mad Men's Swan Song
You can't always get what you want.
That familiar Rolling Stones anthem from 1969 could serve as a fitting theme song for Mad Men, and its loyal (if at times frustrated) legion of admirers. It is especially apt as this remarkable drama's compelling but uneven seventh and final season ends Sunday under the usual shroud of secrecy.
It's understandable to wonder how, or even if, Matthew Weiner will wrap things up for these fascinating emblems of 1960s ambition and reinvention, holding a mirror to who we are now by unflinchingly revealing how we were during an earlier period of turbulent change. The one thing that's almost certain is that not everyone will be satisfied. Like, say, that viewer who may still be hoping desperately for one last glimpse of Sal Romano (Bryan Batt), the gay art director unhappily fired in the third season and never seen since. Was he around for the 1969 Stonewall riots that sparked the gay rights movement? We'd like to think so, but like so much else in the rigorously tailored world of Mad Men, that's someone else's story, not Matthew Weiner's
Weiner has, to the very end, sent his rich characters on unexpected detours, heedless of whether it's a ride we're always eager to share. Case in point: Just as this twilight season was finally heating up, with our favorite ad men and women either chafing or thriving within the soulless bureaucracy of the McCann-Erickson corporate agency which swallowed their maverick firm and their individual identities, restless Don Draper (Jon Hamm) impulsively heads West. Spending the entire precious next-to-last episode in a roadside inn, he wrangles with American Legion-aires and a young con man to whom he gives his wheels. Don ends the episode looking happy and liberated, back to his Dick Whitman hobo roots waiting for a bus with his belongings in a Sears bag. But beyond the thuddingly obvious symbolism, there's a sense of time not particularly well spent. One episode to go and they're telling this story? And no Peggy Olson (Elisabeth Moss) anywhere?
You can't always get what you want. Just ask Megan (Jessica Paré)—or better yet, don't.
Same goes for Don's brittle-Barbie first ex-wife, Betty (January Jones), who in the same episode last Sunday received the dreaded diagnosis of aggressive and apparently terminal lung cancer. It was bound to happen to someone in this nicotine-drenched exercise in dark nostalgia, but it seems like piling on to a character who has never been particularly sympathetically presented. (Still, Betty's scenes with Kiernan Shipka, as rebellious daughter Sally, were quite poignant.)
A more conventional series might frame its finale around an event like Betty's presumed funeral, bringing everyone together for a bittersweet reckoning, which is certainly an option. But Mad Men tends to defy the usual rules of TV storytelling, rarely sentimental or pat. We never know where it will zig or zag, or who or what will be the focus of the next chapter in these extraordinarily ordinary lives. Even when they fancied themselves Masters of their Universe, selling a version of the American dream they could never completely buy into in their own lives, these were not superheroes, although Joan (Christina Hendricks), in her climactic showdown with the big boss, left the company a feminist role model, albeit with only half the money she brought in.
If when the final credits roll, they and we find ourselves wanting more, or something different, that's the American way. And Mad Men's.
Mad Men finale airs Sunday, May 17, 10/9c, AMC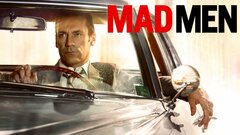 Mad Men
where to stream
Powered by