Mad Men Stars Chat About Their Final Season on Sundance TV's Behind The Story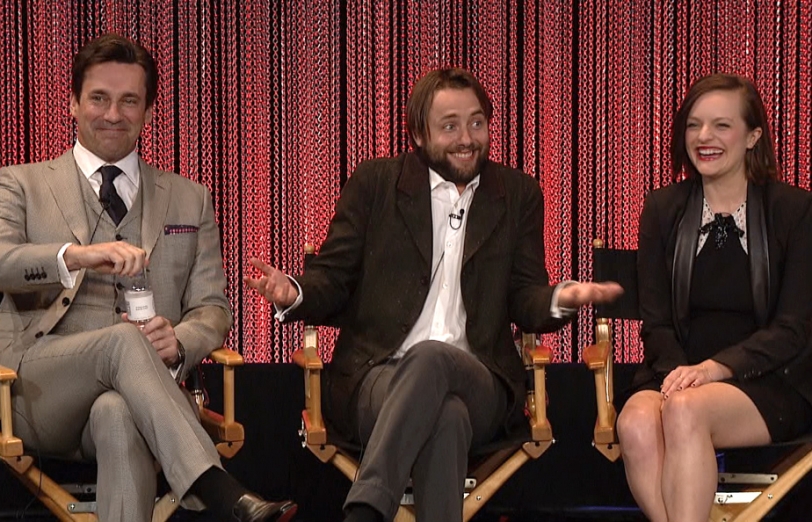 I stared down Jon Hamm.
Last year, while moderating a Mad Men panel, an audience member asked the cast about the show's use of silence as a dramatic tool. I turned to Hamm, who decided to answer the question literally by just staring back at me in silence. I stared back. It quickly turned into a staring contest.
I never lose staring contests. I don't blink. Turns out that's a skill that comes in handy when you're suddenly locked in a staring contest with Jon Hamm. Seconds ticked away. The audience laughed, then cheered, then grew quiet again as they realized we were both in it to win it.
A minute passed. I asked the crowd, "Should we stop?" Hamm blinked -- and we moved on. Later, Mad Men creator Matt Weiner told me that Hamm is the most competitive person he knows, and that he would have "punched you in the stomach to win." At an event months later, Hamm also confirmed that he blinked to get the panel back on track. We'll call it a draw.
RELATED: Mad Men's True Story, from Start to Finish
The panel, part of the Paley Center for Media's annual PaleyFest television festival, was taped for posterity–and will now air Friday night at 11/10c on SundanceTV, as part of the new weekly series Behind the Story with the Paley Center.
Joining Hamm on stage were co-stars Elisabeth Moss, Christina Hendricks, Vincent Kartheiser, Robert Morse, Kiernan Shirpka and Jessica Pare. The panel was held just as Season 7 was getting underway in 2014, and spoilers were not to be had, so more recent plot points weren't addressed. But the cast discussed what the end of the show meant to them personally: "I think we're in some phase of grief right now," Hamm said. "It's probably denial. I think we are collectively starting to realize the end is coming faster than we thought it was. There's nothing to prepare to for it. My operating agenda is have as much fun as we've always had making the show until we can't make it anymore."
Here's a clip from the SundanceTV edit of the panel: