Outlander's Tobias Menzies on Playing One of the Most Disturbed Men on Television
Outlander author Diana Gabaldon has called ruthless English army captain Black Jack Randall "an equal opportunity sadist." The twisted Brit has tried to rape Claire Randall (Caitriona Balfe) more than once and nearly whipped her husband Jamie Fraser (Sam Heughan) to death. In the first-season finale, Black Jack (Tobias Menzies) gets even darker. We asked Menzies what it's like to play the most deeply disturbed man on television.
Did you hesitate to take this role, considering Jack's escalating brutality?
I like my drama to have plenty of darkness. All really great stories have good villains.
Did you come up with a backstory to help you play Jack?
I did research into what it was like to be a soldier during the Jacobite conflict in Scotland. There's always the danger of being a cliché villain. Rooting it as much as you can in real history can help you to avoid that pitfall.
In an earlier episode, Jack tries to rape Jamie's sister, Jenny (Laura Donnelly), a scene that required full-frontal nudity. Were you nervous about being so exposed?
As long as it feels right for the story, respectful, and not gratuitous, I don't have a problem with it. I'm old and hairy! I know what I look like, and I'm OK with it. But as a guy, there's just less body fascism than women have to deal with. It would have felt odd to duck [the nudity].
Can you offer any insight into Jack?
Jack is amoral rather than immoral. He enjoys the chess game, the battle between the characters, in whatever guise that comes in. It's not like he's interested in rape. He is interested in people's pain levels and their boundaries.
You also play Frank Randall, the husband Claire left behind in 1945 and the polar opposite of Black Jack. Will we see him in Season 2?
Yes. Frank's very restrained, very buttoned-up, very of the period, but there is plenty going on underneath that facade. The more glimpses we get of that, the better the drama, and there will be plenty more with Frank's reappearance in Season 2.
What was it like for you and Sam Heughan to shoot the intense finale (which airs May 30)?
Rehearsal was mainly quite technical stuff about how we could shoot the violence, the choreography of it, to make sure it was safe. Sam and I didn't hang out a huge amount while we were shooting. We kept to ourselves, not in an unfriendly way, but to keep our powder dry. We let it all happen in front of the camera.
Outlander, Saturdays, 9/8c, Starz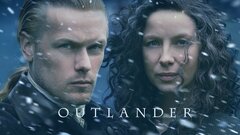 Powered by