The 5 Best TV Theme Songs of the 1990s
They just don't make em' like these anymore. The '90s will be remembered for a lot of fads like the Macarena, Beanie Babies, and frosted tips, but one of the best trends to characterize the decade were the heartfelt theme songs that appeared along with our favorite TV shows. The catchy jingles were so memorable that we find ourselves still humming them decades later, tugging at the nostalgia strings.
Nowadays it seems like so many shows have forsaken the signature tunes in favor of more screen time, and it kinda sucks. To be fair, we still have some good theme songs today, from Pretty Little Liars' eerie ditty to the inventive music videos that Crazy Ex-Girlfriend creates every season, but nothing beats these awesome '90s themes.
1. Friends
Who can forget those six adults gleefully splashing around in the fountain as they danced their little hearts out to "I'll Be There for You"? The iconic theme song spliced in shots of the New York City skyline while the actors mugged for the camera and twirled umbrellas. Since the premiere way back when, viewers have argued about exactly how many claps have appeared (the answer is four), what DOA stands for (dead on arrival), and why that couch was sitting outside (jury's still out on this one), but that never stopped us from singing along to the Rembrandts' one-hit wonder.
2. Fresh Prince of Bel Air
We all rapped like fresh princes when these opening credits rolled around. Will Smith was legendary, spinning around on his bona-fide throne while rapping about his journey to ritzy Bel-Air. The theme song may be almost two minutes long, but everyone watched from start to finish when it came on. The video is incredibly old-school and is replete with neon tops, backwards baseball caps, and a whole lot of spray paint. The rap was written by Will Smith and DJ Jazzy Jeff, and was reportedly created in fifteen minutes. The theme song has been covered by dozens of stars since then—it's just that good.
3. Full House
Whatever happened to predictability? This wholesome intro encapsulated the show perfectly, with sweet lyrics and shots of the Tanner family smelling flowers, tossing frisbees, enjoying a picnic, and and just generally having some squeaky-clean fun. "Everywhere You Look" was written and performed by theme song legend Jesse Frederick, who is also behind the classic intros to Family Matters and Step By Step. The song was written specifically for the show and has since been covered and revamped by Carly Rae Jepsen for the spinoff Fuller House (though there's no comparison). At the end of the day, who didn't want to join the Tanners as they cruised the Golden Gate Bridge in their shiny red convertible?
4. Saved By the Bell
Colorful flying flamingos, ice cream cones, and sneakers all made their way onto the screen for this titular theme song. The graphics were fun and zany, and accompanied the lead singer as he innocently serenaded us about the woes of high school. The video may be a little grainy, but it's still fun to watch. If for nothing else, take a look at the theme song for the wonders of '90s hair: feathered bangs, scrunchies, curly fros, and mullets. 'Nuff said.
5. Sabrina the Teenage Witch
This theme song may have been wordless, but the visuals more than made up for it. Who hasn't fantasized at one time or another about zapping on clothes to model in the mirror? We watched the teenage witch go from dressy, to casual, and then gloriously channel Audrey Hepburn in the span of mere seconds. The intro is short and sweet and had a fun twist: Every episode's theme song had a different ending, complete with a new outfit and witty line. This is actually one of multiple opening credits that have appeared on the show. Guess they wanted to keep the magic alive.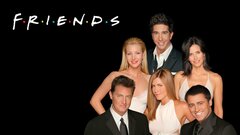 Friends
where to stream