Olympian Nick Symmonds Takes on American Ninja Warrior
American Ninja Warrior has long been dominated by macho men, but it was a five-foot-tall woman who gave the obstacle-course competition its biggest watercooler moment. Last summer, when Kacy Catanzaro became the first woman to complete the demanding qualifying round, ratings and buzz increased—spurring a tenfold surge in applicants for Season 7. "One of the great things about our show is that it is very relatable," executive producer Brian Richardson says of the flood of new Warrior wannabes. "You can go from the couch to the course in a couple of months. You may not do very well the first time, but you've at least got a shot."
Among the 50,000 people wanting to take that shot was Olympic middle-distance runner Nick Symmonds, who became a fan of the show while rehabbing from a knee injury last summer. At the March filming for this season's Venice, California, preliminary round, Symmonds quickly learned that world-class speed and endurance don't necessarily translate to the course, which has been dominated by climbers, gymnasts, and parkour aficionados.
"I'm used to the gun going off and adrenaline flooding my system and going as hard as I can for about a minute and 45 seconds," says the telegenic Symmonds, a five-time U.S. champion in the 800-meter run who finished fifth at the 2012 Olympics. "The Ninja Warrior course is all about patience and visualization and really taking your time with each obstacle. I have a lot of respect for the athletes who are able calm themselves and channel their focus and energy into the obstacle that their competing on, rather than a ballistic, all out, from the gun type running."
Though Symmonds admits he was humbled by the experience, "he did better than most of the Olympians we've had on the show," Richardson says. "And he made a big impression on a lot of the women fans!"
The 31-year-old Boise, Idaho, native was absent from the track circuit last year as he recovered from the injury, but he kept busy writing an autobiography (Life Outside the Oval Office) and starting a company (RunGum, a caffeine-based energy gum). Now he's targeting this summer's world track and field championships in Beijing and next year's Olympic Games in Rio. Symmonds has earned a spot on Team USA the last two Summer Olympics and the past four world championships (including the 2013 edition, when he won the silver medal), and keeping that streak alive is a top priority. "One of my proudest accomplishments is that I've made every single world team I've ever tried out for," he says. "If I make this one and Rio and retire after that, that's quite a legacy."
American Ninja Warrior's seventh season premieres Monday, May 25 at 8/7c on NBC (and replays Tuesdays at 8/7c on Esquire Network).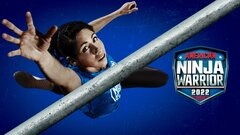 Powered by