Who Is Peggy Sulahian, the 100th Real Housewife?
It won't be business as usual when Vicki Gunvalson, Tamra Judge, and the rest of The Real Housewives of Orange County return for Season 12. Peggy Sulahian, who marks the 100th lady to join the Real Housewives series across all cities, will bring some fresh blood—and hopefully, some fresh drama—to the California franchise. Here's everything you need to know about the show's new addition.
1. She's Armenian.
According to Bravo's official bio for Sulahian, she was born to Armenian parents in Kuwait. She then immigrated to the U.S. at the age of one, and now lives in the swanky Crystal Cove neighborhood of Orange County.
2. Slick wheels are the family business.
Her husband of 22 years, Diko Sulahian, is a "custom wheel mogul," according to Bravo. He's the president of WTW Corp., the parent company of Giovanna Wheels. At one point, the company sold a wheel named after the Housewife, called the "Peggs."
They have some very high-end clientele, such as French Montana, Ray J, Tyga, Khloe Kardashian, and Jamie Foxx.
Business must be booming. In the trailer for the new season, Peggy says her "lifestyle is extravagant," adding, "It sure doesn't suck to be me, now does it?"
3. She has a full house.
She and Diko have three kids: daughters, Giovanna, 19 and Gianelle, 17, and a son Koko, who is 10.
4. She knows Justin Bieber.
Well, she's met him at least. In November of 2015, she posted a picture with the pop star on Instagram, congratulating him on his performance at the American Music Awards. An earlier Instagram post appeared to indicate he was a customer of Diko's.
5. She underwent a double mastectomy.
At the age of 51, Sulahian's mother lost her battle with breast cancer. When Sulahian found a lump on her breast, she had the surgery. Her Bravo bio seems to indicate that on the show, she'll be "preparing" for reconstructive surgery.
6. She joins The Real Housewives as a friend of Lydia McLaughlin.
McLaughlin returns the show this year after a brief stint as a 'Wife in season 8. In the trailer for season 12, she's seen telling Vicki Gunvalson and Kelly Dodd that she wants to introduce them to Peggy, and that they'll "love her."
7. She's going to butt heads with at least one other Housewife.
In that same trailer, Sulahian leaves a table as Kelly Dodd shouts at her, "You wanna throw a bomb? I'm gonna throw a nuke!" Bring on the drama!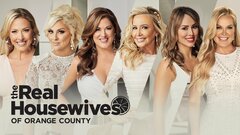 Powered by