'Superstore' Cast Gets Physical on 'Hollywood Game Night'
Don't underestimate the cast of Superstore…even if they're in hilariously oversized pants.
Superstore stars Ben Feldman (Jonah), Lauren Ash (Dina), and Nico Santos (Mateo) compete in Thursday's episode of Hollywood Game Night—against Ne-Yo (World of Dance), Cheri Oteri, and Natalie Morales—and the costars go all in on the game "Get in My Pants."
In the exclusive clip below, Ash, Santos and Feldman (as well as their civilian contestant) are each assigned a television comedy…and a corresponding pair of gigantic pants. Host Jane Lynch asks the team questions, and whichever show is the answer, the person assigned to the series has to attempt to catch a ball in said oversized pants. (And boy do they get physical in an attempt to score as many points as possible.)
Can we petition to make this game a part of the next Color Wars episode of Superstore?!
Hollywood Game Night, Thursdays, 8/7c, NBC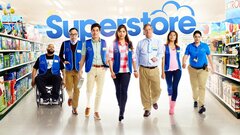 Powered by