The CW Renews iZombie For Next Season
The CW's iZombie has been iRenewed for Season 2.0.
The comedic thriller, starring Rose McIver as undead star Olivia "Liv" Moore has been a fan and critical darling, and has seen its fortunes rise at The CW in recent weeks. Last night's episode averaged 1.93 million viewers, narrowly beating Fox (1.91 million) in the 9/8c hour. The episode also averaged a 0.7 rating in the adults 18-49 demo and a 0.6 with adults 18-34, holding its ratings from the previous week.
No word yet on an episodic order, however, or when it might return. The CW will announce its fall 2015 schedule on Thursday, May 14.
The CW is coming off a solid year, and has already renewed The 100, Arrow, The Flash, Jane the Virgin, The Originals, Reign, Supernatural and The Vampire Diaries. Plus, shows on the docket for next year include an anticipated Arrow/Flash joint spinoff. That makes for a crowded schedule, but it also allows The CW to put some of these serialized shows on hiatus, rather than run low-rated repeats. The CW has also aggressively looked at more summer fare.
As for iZombie, TV Insider's Matt Roush is a fan. Here's what he wrote about the show:
There's never been a zombie show quite like iZombie, with its quick and literally deadpan wit. Like a cross between Veronica Mars (whose producers adapted this from a comic book series) and Pushing Daisies, this is the delightfully droll account of how Liv adjusts to a not-quite-dead life of "post-traumatic ennui," with a chalky complexion, an adorably puzzled ex-fiancé (Robert Buckley), and a hunger for brains. She satisfies the latter by taking a job in the morgue, where her fascinated boss (the amusing Rahul Kohli) indulges her appetite by giving her full access to the daily delivery of cadavers. (It's never as gross as it sounds.) In a twist reminiscent of the whimsically macabre (and still lamented) Pushing Daisies, Liv discovers that she is ingesting memories along with the gray matter, and observing crimes from the victims' posthumor POV gives her the ability to help a struggling detective (Malcolm Goodwin) solve crimes by pretending to be a psychic.
Rob Thomas and Diane Ruggiero-Wright developed and executive produce iZombie with Danielle Stokdyk and Dan Etheridge. The show is based on the comic published by DC Entertainment's Vertigo imprint.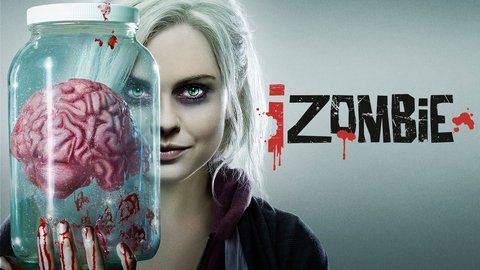 iZombie
where to stream
Powered by