What's Worth Watching: 'The Strain' on FX for Sunday, July 19
The Strain, "By Any Means" (Sunday, July 19, 10/9c, FX)
Just when you thought FX's viral-vampire horror show The Strain couldn't get creepier, the show goes into full taboo territory by recruiting a bus full of blind children into the army of the damned. Last week's season opener ended with the chilling incantation "Behold the feelers, the children of the night," as Mommie Fearest Kelly Goodweather (Natalie Brown) in put in charge of these little monsters, and their ghoulish skittering to her every command is not likely to be good news for Kelly's still-human husband Eph (Corey Stoll) and especially their son Zach (Max Charles). Even for a series that knows how to get under one's skin, these babes of the dark are incredibly squirm-inducing.
Young Zach is especially vulnerable prey, feeling neglected as disgruntled daddy Eph and his earnest lab partner Nora (Mia Maestro) continue looking for a cure. They're using last week's victims from the storage locker—who I bet wish they'd never met these "heroes"—as guinea pigs to test the virus, which as Eph cracks "would be a great antibiotic if it didn't turn us into vampires." But will there be monster attacks and beheadings in this episode, you wonder? Naturally, courtesy of exterminator extraordinaire Fet (Kevin Durand) and sidekick Dutch (Ruta Gedmintas), who perform a bloody variation on a neighborhood watch before finding time for a skinny-dipping respite. Not sure anyone can wash the blood of The Strain off their hands entirely, but it's a start.
Also Tonight
Giada in Italy, Series premiere, 11am/10c, Food Network
Giada De Laurentiis cooks up meals at her family's holiday home in Italy. This morning: light dishes from Sorrento, including pan-seared branzino, homemade gelato and almond cookies.
Welcome to Sweden, Season premiere, 8/7c, NBC
Smitten Bruce asks Emma's father for permission to marry her. How sweet—if it were 100 years ago. And even then…
Sports Highlights
Golf 6am/5c and 8am/7c, ESPN British Open
Formula One Racing 7:30am/6:30c, CNBC German Grand Prix
MLB Baseball 1:30/12:30c, TBS Dodgers at Nationals
NASCAR Racing 1:30/12:30c, NBCSN Sprint Cup in Loudon, New Hampshire
MLS Soccer 5/4c, ESPN2 Chicago Fire at Columbus Crew
Pan American Games 7/6c, ESPN2 Various sports
MLB Baseball 8/7c, ESPN Red Sox at Angels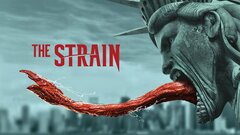 Powered by