Key and Peele Present Savannah, Hillary Clinton's Anger Translator
Key & Peele are back, and they brought another friend with them: Savannah, Hillary Clinton's Anger Translator. In last night's Season 5 premiere, Savannah got to unleash all those feelings Hil's been bottling for the last eight years on President Obama (Jordan Peele) and his Anger Translator Luther (Keegan-Michael Key), and it was something to behold. Comedy Central hasn't released the clip into the wild, but you can catch the full (uncensored) episode here. The sketch begins at about 5:40, with Savannah going for the jugular in her first line: "My hatred for you is a pure force of nature that is gonna move me onward to my destiny." She only gets sharper—maybe even a little too sharp for her translatee, who has to advise her to "take it down a notch."
It's hard to remember a world without Peele's Obama and Key's Luther—the two have delivered a steady stream of killer Anger Translator sketches for three and a half years now. The first one came in the series premiere:
Others followed:
In Season 3, Key and Peele decided to expand the Anger Translator universe a little with Michelle Obama's translator, Katendra. (Bonus: Keke Palmer as Malia's Anger Translator.)
Luther even made an appearance at the White House Correspondents' Dinner:
Key & Peele airs Wednesdays, 10/9c, on Comedy Central.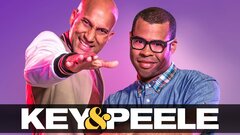 Powered by