5 Comics TV Lovers Should Grab on Free Comic Book Day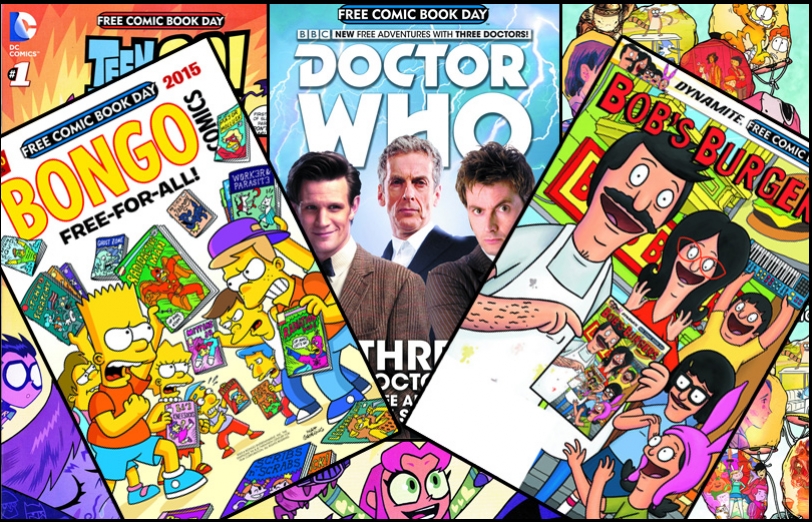 Comic book fans always look forward to the first weekend in May—and not just because it typically brings a new Marvel movie. For the 14th year in a row, the first Saturday of the month is Free Comic Book Day, when comic shops around the country hand out more than 5 million freebies to both hard-core fanboys and newbies. Dozens of publishers participate, including the big guns of DC, Marvel, Dark Horse, and Image. Here are five picks that TV fans will definitely want to grab from this year's batch. And for more information about Free Comic Book Day (including how to find a participating shop in your area) visit www.freecomicbookday.com.
Bongo Comics Free-For-All! (Bongo Comics)
A collection of stories starring characters from The Simpsons, including a journey to a version of ancient Egypt where Lisa Simpson is worshiped like a god and a hilarious look at Comic Book Guy's adventures in online dating.
Doctor Who (Titan Comics)
There's something for fans of each the past three Doctors, with chapters devoted to the Time Lords played by David Tennant, Matt Smith, and Peter Capaldi. "Give Free or Die," the story starring Smith's Eleventh Doctor even plays of the day's theme with a plot about an alien race using giveaways to launch an invasion. "Mind control of a planet through a narrative virus given away for free," the Doctor deduces. "People always fall for free stuff."
Teen Titans Go!/Scooby-Doo Team Up (DC Comics)
A slumber party in Titans Tower with Raven, Stafire and their pals anchors half this sampler of DC's kid-friendly titles. And who ya gonna call when the Hall of Justice is haunted? In the other story, the Scooby Gang comes to the aid of Super Friends.
Boom Studios Ten Year Celebration (Boom Studios)
This collection of short stories showcases Boom Studios' all-ages titles, including the Peanuts, Garfield, and adaptations of Cartoon Network's Regular Show and Adventure Time, the latter starring Fionna and Cake, the female versions of the series stars.
Bob's Burgers (Dynamite)
Fox's Emmy-winning cartoon has its own comic companion and this issue collects stories from several issues of the Belcher Family's adventures. Among the amazingly titled tales are "Tina's Erotic Friend Fiction Presents: My So-Called Life as a Horse," and "Burger of the Day Ideas: If Heartwarming '80s Movies Were Burgers."