Comic-Con Toys: Amy Poehler Action Figures, Bryan Fuller Bobbles and More
Television fans have a lot tolook forward to at San Diego Comic-Con–including TV-themed toys and novelties. Here's what new and limited-edition items fans should keep an eye out for as they explore the show floor. (Plus: Get more SDCC news on TV Insider's Comic-Con page.)
Funko
The collectible-producing company known for its bobbleheads and vinyl figures often digs deep into a series' mythology for inspiration. New items, such as Orphan Black's Helena in a Parka ($15) or Once Upon a Time's Regina in her Evil Queen garb ($15), will be available at the Funko booth this weekend. They'll also be honoring Hannibal creator Bryan Fuller with his own Funko Pop! ($15); fans will be able to purchase one of the limited 144 pieces during a booth signing on Friday.
Entertainment Earth
Live from Comic-Con it's Saturday Night Live themed toys! Entertainment Earth will be celebrating the long-running NBC sketch show with a limited number of Tina Fey and Amy Poehler action figures ($29), as well as a Seth Meyers bobblehead ($14.99), honoring the comedians' tenures as Weekend Update anchors. If gothic horror is more your thing, check out the company's line of Penny Dreadful action figures, also available at the company's booth this weekend.
McFarlane
When you play the game of thrones, you win or you die… Luckily there's no danger of that with McFarlane's incredibly detailed Game of Thrones construction sets ($14.99-$49.99) which will allow fans to recreate iconic locations from the show, such as the Iron Throne Room and the Wall. Also, convention-goers can stop by the company's booth this weekend to preview a construction set of Dale's RV ($54.99) from Season 2 of The Walking Dead; it will be available to purchase in mid-July.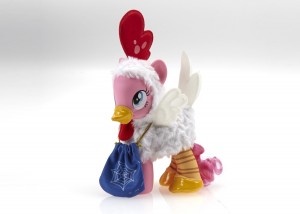 Hasbro
Alongside their Star Wars and Ant-Man releases, Hasbro will also be selling a figure of My Little Pony's Pinkie Pie ($49.99) dressed in her Nightmare Night chicken costume (gold beak and treat bag included), as well as a My Little Pony: Equestria Girls – Rainbow Rocks Twilight Sparkle doll ($34.99), which will come with a locker bookshelf and her dog, Spike. An added bonus is her locket, which unlocks additional game features in the Equestria Girls app.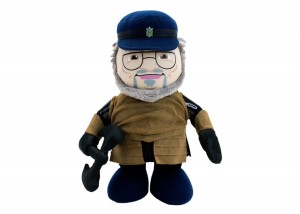 Factory Entertainment
The next season (and book) of Game of Thrones may be a long way away, but fans of the series can make the wait speed by with a George R. R. Martin talking plush doll featuring 10 specially-recorded quotes ($60). Viewers still having a hard time recovering from the latest season finale may want to curl up with a box set of three stuffed Direwolf cubs ($30). And for fans of the animated FX series Archer, Factory Entertainment will also be selling head pillows featuring the animated spy's face.
Skybound
Fans eagerly anticipating this weekend's Outcast panel might want to stop by Skybound's booth and pick up one of the limited number watches ($65) based on Walking Dead creator Robert Kirkman's second comic-adapted series. Meanwhile, fans of AMC's hit zombie show might be interested in one of the foam dart crossbows ($40), or limited edition Michonne action figures ($25).