USA is Using the F-word to Promote Hacker Drama Mr. Robot USA is using the F-word to promote hacker drama Mr. Robot
The hacker drama's marketing campaign is trying to play up its anti-establishment view by saying "F–k Wall Street," "F–k Society," "F–k Social Media" and "F–k the System."
The Wire building where Omar died was destroyed in last night's Baltimore rioting
Novak's grocery store, which doubled as a Korean-owned shop in Season 5, was among the buildings set ablaze last night.
IFC: Our viewers are "not hipsters" — "they don't stink!"
The Portlandia channel boasted today to advertisers that its viewers are "not hipsters" because "they have good jobs, they pay the bills and they don't stink!" Put another way, "They're successful, they're discerning and they like the good stuff."
Kelly Osbourne was apparently out of the loop in talks for VH1's now-scrapped The Osbournes reboot
"As much as you love VH1, the last time I checked, I never signed up to do a show with them. Weird!," she tweeted in reaction to VH1's announcement that it was not moving forward with the reality show.
Samantha Bee exits The Daily Show this week, but her new USA show will be "tonally similar" — and likely in late-night
"If you've enjoyed my work on The Daily Show, there will be something tonally similar, I would say. A continuation of the things I like to do," Bee says of her show, which she adds "will be mostly current events-based." A timeslot hasn't been set, but Bee says, "Let's call it a late night show, for now."
The X-Files bringing back 2 key writer-producers
Glen Morgan and James Wong will be part of Fox's six-episode reboot.
Here's what a sampling of Netflix subscribers reveals
A research firm asked 2,500 subscribers which Netflix shows they're watching, and it turns out Daredevil and Unbreakable Kimmy Schmidt are pretty popular.
Yahoo unveils 18 new programs, including a Simon Cowell DJ competition
Only one of the shows is a long-form scripted comedy. But Yahoo CEO Marissa Meyer said of the 18 new shows: "This lineup is really appealing, we think, to the millennials… and we know that's a really attractive demographic to advertisers that can do a really solid job of making us that must-buy."
Check out Anthony Tyler Quinn on Girl Meets World
Mr. Turner is back!
ABC News: We tried to contact Kris Jenner for our Bruce Jenner special multiple times
Jenner insists that "no one asked me to comment" about Bruce Jenner. But ABC News says her reps said "no comment" for the special.
Courteney Cox blames David Schwimmer for holding out on a Friends reunion
"We've gotten about 80 percent there, but there's always one person who flakes at the end," she says.
USA picks up a drama pilot set in 1940s Hollywood
Paradise Pictures will be "set against the backdrop of a dramatic transformation in the entertainment industry."
Watch the trailer for Starz gritty ballet series Flesh and Bone
Emmy-winning Breaking Bad writer-producer Moira Walley-Beckett is behind this "dark and gritty" limited series that delves into a prestigious NYC ballet company.
Meet the 14 men who will survive on Bear Grylls' The Island
The six-episode NBC reality show, based on a UK format, drops the men off on a deserted island. Unlike Survivor, there will be no prizes, no eliminations and no winner.
True Detective meets Natalie Imbruglia's Torn
SNL alum Noel Wells found that True Detective's Season 2 teaser is "way better" set to the tune of Torn.
Disney Junior renews Miles From Tomorrowland
The space-themed series will be back for a 2nd season.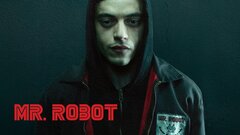 Powered by