Here Are The 14 Survivalists Joining NBC's New Bear Grylls Show The Island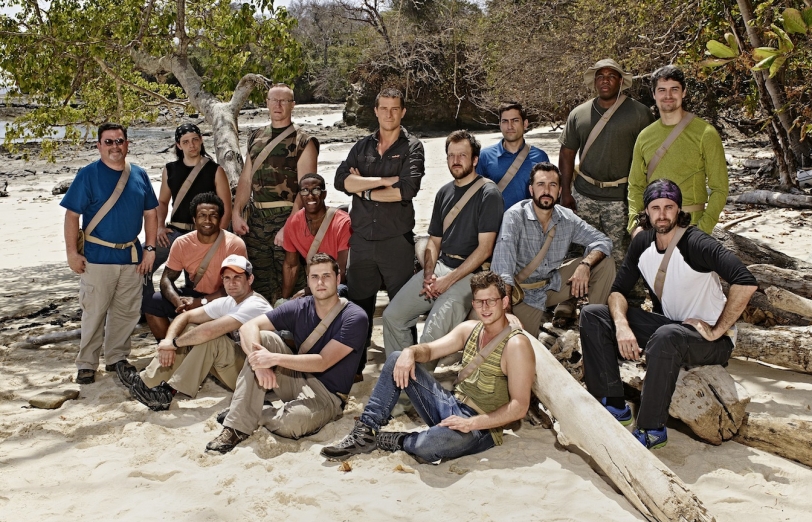 Survivalist Bear Grylls has found the 14 men who will tackle his new NBC reality show The Island.
The six-episode series, which premieres May 25, features men dropped on a deserted island and forced to fend for their own. Here's the twist: The show offers no prizes, no eliminations and no winner. The cast is sent with just the clothes they're wearing and some minimal survival tools, while the embedded crew has filming equipment. The show is based on a hit U.K. format.
"We take food, shelter, warmth for granted," Grylls says. "We click buttons rather than test our resourcefulness. I want to find out what happens when you strip people of all the comforts of modern life. Has that incredible pioneering spirit been lost forever?"
Here are the participants (including the crew) on the show, along with infomation about each, as described by NBC and producer Endemol Shine North America:
Rob Brothers, 43 (Bala Cynwyd, Pa.; stay-at-home dad): "Brothers is an opinionated father of two who left his IT job to become a full-time stay-at-home dad, but after two years he's feeling disillusioned and has lost contact with many of his male friends. Although he was kicked out of Boy Scouts as a child and couldn't wait to get home from sleep-away camp, he hopes that, once on the island, he can bond with this group of guys."
Davion Carrillo, 39 (Indianapolis, Ind.; firefighter): "Carrillo admits he has spent his life looking for greener pastures. After climbing the corporate ladder at General Mills, he quit his job and became a firefighter. The adrenaline rush was just what he was looking for, or so he thought. Carrillo literally saves lives for a living, but he's once again finding it's just not enough. Restless and discontent, this dreamer is ready to see if the solution to his problems lies not in his day-to-day profession, but rather within himself. As he runs from life and to the island, can this everyday hero find himself so that he can return to the real world a new man?"
Taylor Cole, 25 (Los Angeles; radio producer): "Cole arrives on the island with all of the confidence in the world, ready to prove to the nation that appearances aren't everything. A year ago he was in a near fatal motorcycle accident, suffered broken legs and had emergency brain surgery. It took an agonizing three months before he was back up on his feet. He is now ready to test himself, wanting to see if he is physically and mentally back to the adventurous risk-taker he once was."
Matthew Getz, 33 (Los Angeles; embedded crew): "Getz is an app-addicted, social media-driven producer/shooter who is treating the island as a form of rehab. His phone has literally taken over his life and left the once sociable New Hampshire native paralyzed. So what does he stand to gain from breaking up with his phone? 'Divorcing my phone and thrusting me in the middle of 14 men is just the kind of cold-turkey wake-up call I need. We'll have to think for ourselves …talk face to face to get things done. A real community — not an online one.'"
Benji Lanpher, 31 (Los Angeles; embedded crew): "Lanpher suffers from the ultimate Peter Pan syndrome. He is an adventure junky, thrill-seeker and prankster who refuses to grow up. His desire to remain a child has led him to begin saving money so that he may one day buy his own island, a personal Neverland where he can escape the adult world and become a truly 'lost boy.' The island will be the perfect test to see if he can really make it in a land that offers you nothing."
Earnest Marshall, 27 (Dallas; women's shoe salesman): "Marshall saw combat as an Army soldier in the Iraqi War, and knows first-hand the realities of being on the front line. Since returning to the States and being reunited with his wife and young daughter and son, Marshall has settled into civilian life, becoming a woman's high-end shoe salesman at Nordstrom's. Quite the opposite from his military life, Marshall is admittedly no longer at his 'fighting weight' and knows he has become complacent. He is looking reclaim the fighting spirit he once had so he can show his family the warrior he believes he still is."
Dakota Mortensen, 21 (Caldwell, Idaho; bird farmer) "Mortensen went to college on a basketball scholarship, but an active social life proved to be more enticing. He lost his scholarship and was forced to drop out before his first year was over. He now lives with his parents and works on his dad's bird farm. He knows that opportunities have been handed to him, but his lack of focus and inability to look to the future have kept him down. He feels he's done nothing but disappoint his family, girlfriend and himself. Despite a life full of setbacks, he is full of energy and is hoping his struggles on the island will make everyone believe in him for the first time in his life."
Jim Murray, 64 (Murphy, N.C.; retired police chief): "Murray built an impressive and lengthy career as a homicide detective, profiler and police chief. Now retired, James has grown restless. He's led many different and exciting lives during his career and kept his skills sharp. He comes to the island with a 'failure isn't an option' mentality. He knows that he can lead this group of men. He may be retired, but Murray isn't done living. At 64 years old, the only question is will this career winner come to the island and finally meet his match?"
Jud Nichols, 28 (Minneapolis; criminal defense attorney): "For most of his life, Nichols has done what he 'should do,' including following in the family business. When it came time, Nichols followed in his father's footsteps and went to law school. After becoming a defense attorney, he quickly realized he had made a mistake. Simply applying for and being given a place on the island flies in the face of family tradition. Even though he has no survival skills, he arrives on the island hoping to break out and run away from his guarded, catered life in an attempt to uncover his true self."
Dr. Buck Parker, M.D., 41 (Orlando, Fla.; trauma surgeon): "At a young age, Parker's father attempted to instill the love of hunting and the outdoors in his son. However, unlike his brother, he was less interested in hunting and the outdoors and more interested in the anatomy and physiology of the animals when it came time to field dress them. This served as his initial spark of inspiration to pursue a life of medicine, and thus his career as a surgeon was born. Parker finished his surgical residency in 2010 and now works as a trauma surgeon. His success in his professional career, however, doesn't make up for the disappointment he still feels when it comes to his father and his outdoor prowess. So he is coming to the island to not only act as the cast medical specialist, but more importantly to prove to his father and brother that just because he doesn't ride the range with them …he hasn't gone soft on them."
Michael Rossini, 50 (Randolph, Mass.; engineer): "Coming from a family with a long history of military service, Rossini learned to hunt and survive in the wild at an early age. While his 'wild' life has always been a source of great reward, his personal life took a tragic turn seven years ago when his wife lost her battle to breast cancer. Widowed and left to raise his two young daughters, this lovable alpha male has spent the time since his wife's passing tending to the needs of his children, mostly at his own expense. While he has come to terms with his wife's death, the grieving process is not quite complete. On the island, Rossini hopes to take the final step in accepting his wife's passing by doing something for himself and for himself alone… survive."
Graham Sheldon, 28 (Encinitas, Calif.; embedded crew): "Newly wed to his wife who serves as his business partner, the Emmy Award-winning producer and cameraman lives a happy and peaceful life. He is no stranger to adventure, however, having traveled to the ends of the Earth to produce documentaries on embargo-era Cuba, the Iditarod in Alaska, and even the exclusion zone in Chernobyl, Ukraine. Yet, Sheldon is slightly germ phobic and prefers to only take calculated risks, so he can return home to enjoy the comforts of California beaches, chai lattes and hand sanitizer. The son of a Hollywood screenwriter and producer, Graham has yearned to prove he has merit that derives from his own strength and ambition and hopes this endeavor will prove this to himself and his father."
Rick Smith, 34 (Bozeman, Mont.; embedded crew): "Smith is an All-American even-tempered back-country shooter who admits that he gets off on the pain of the survival game, but he is no survivalist. He documents those who know what it takes to stay alive in the wild, but relies on their knowledge to keep him fed and safe. He has found himself in many harrowing situations while on assignment —facing grizzly bears to becoming hypothermic — and knows that to survive you need more than knowledge and supplies, you need the spirit to survive. He admittedly has no idea what he's in for, but wants to test the boundaries of his spirit."
Trey Williams, 31 (Kansas City, Mo., digital marketing manager): "Three years ago Williams met the love of his life. They seemed to have it all and were headed for the All-American dream: marriage, white picket fence and children. That came to a crashing halt, however, when he tore the relationship apart. His world devastated, Williams began to put his life back together. Now he and his boyfriend have decided to give the relationship another chance, but this once confident collegiate athlete has serious concerns. On the island he hopes to find the answer that could alter his life."