The Pursuit of Happyish: How Showtime's New Comedy Made It to the Screen
Happyish creator Shalom Auslander isn't known for his joyful insouciance. "Miserable and pissed off," is how the former advertising executive describes his personal brand. His 2007 memoir, Foreskin's Lament, details a strict Orthodox Jewish upbringing by a manipulative mother and a fearsome father that produced a bleak, shattered adult. Stuff gets to him. As his writing attests, bloggers, Twitter, and hard-to-spread nut butters send him into equal states of despair. But when the fortysomething enters his office at Brooklyn's Steiner Studios, where Showtime's latest comedy films, he's almost giddy.
"Have you seen this?" he asks about a banner resembling the stick-figure-family decals some folks affix to minivans–but this clan is carrying Rambo-style rifles. "It's a prop from a fantasy scene on the show in which ISIS takes over an American town," he says, adding that his wife, Orli, and sons are on set today. "I love it! It's going on my car immediately!"
Happyish is, largely, another edition of Auslander's story. "It grew from me finding my wife, a shrink, and Prozac–in that order," he explains, "and still feeling something's missing. I wanted to write about someone struggling with whether 'happyish' is the best we can hope for." Like Auslander, the show's hero, Thom Payne (Steve Coogan), his artist bride, Lee (Kathryn Hahn), and their son, Julius (Sawyer Shimpman), live a secluded, pastoral life in tony Woodstock, New York. Payne affords their bubble by working as a Manhattan adman, making things like Coke, E.L. Fudge Cookies, and the U.S. Army sexy to teens–which is slowly pulverizing his soul–while also writing a book. In Auslander's real life, he was later laid off. "I went, 'S–t, what do I do?'" he recalls. "My agent said, 'Have a superhero idea? Film. If not, TV.'"
His tale eventually found its way to producer/director Ken Kwapis (The Office). "Shalom's stories about advertising were so hilariously disturbing," Kwapis recalls, "that I quickly agreed to help him." In the premiere, the words Thom's mentor, Jonathan (Bradley Whitford), uses to wax poetic about Al Qaeda's branding are from the mouth of an actual exec–only she was talking up Nazis. Adding to Thom's misery are his new bosses, young Swedes Gustaf (Tobias Segal) and Gottfrid (Nils Lawton), whose modern patois (social media! bandwidth! ideation!) leave him feeling old.
When Happyish ultimately landed at Showtime, network entertainment president David Nevins's only choice for Thom was Oscar winner Philip Seymour Hoffman. In September 2013, director John Cameron Mitchell (Hedwig and the Angry Inch) shot the original pilot with Kwapis producing and Hahn costarring. An uproarious clip shown at the Television Critics' Association in January 2014 featured Hoffman (as Thom) miserably convincing guest star Louis C.K. to shill for his own brand of C.K. high-tops. Then on February 2, Hoffman died of a drug overdose.
"At first we all thought, 'This is it,'" Hahn says. "The experience with Phil was so holy. But we took the time to decide collectively that the show was actually Shalom's, and we just wanted to explore his writing." Nevins agreed, but who could replace Hoffman?
"With Phil, our approach had been to take this dramatic actor and find lightness," Auslander says. "We decided to flip that and find someone who does comedy and have him play it heavy." Enter Steve Coogan, who spent his twenties and thirties playing the British character Alan Partridge, a has-been radio host always in the throes of a midlife crisis. Now, at 49, the actor is hoping to examine the pains of adulthood differently.
"Comedy is a young man's game," Coogan says. "You come up to middle age, you crave something more than just a laugh. And it doesn't feel a stretch for me to say the lines that Thom Payne has." In fact, between shots, he is reminding himself out loud to suck in his gut. It really is hard to be satisfied, isn't it?
"I read all these books on happiness," Auslander says in his office. "I'm still trying to find an answer and there isn't one. This show is as close as I'm getting to it, all right? Now, I'm going to go put this terrorist family on the back of my car."
Happyish, Sundays, 9:30/8:30c, Showtime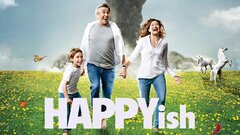 Powered by