First Look: Josh Holloway Reunites With 'Lost' Boss Carlton Cuse for USA Network's 'Colony'
Back when Carlton Cuse was running Lost, with fellow showrunner Damon Lindelof, one of his "favorite parts" of the job was writing for Josh Holloway's con man role, Sawyer. "He's a fairly reviled and despised character," says Cuse, "and he ends up being this incredibly heroic, stellar guy by the end of the series. A lot of that was really driven by what Josh brought to the table as an actor." So after Lost ended in 2010, Holloway and Cuse, who had become friends during the series, stayed in touch. "Carlton and I," says Holloway, "we've always been talking about doing another project together."
And now, after working apart for quite a bit— including Holloway's stint last year on the short-lived CBS drama Intelligence and Cuse's current workload of A&E's Bates Motel and FX's The Strain—they've finally found a joint venture in USA's new sci-fi drama, Colony.
The series (which premieres this fall) is set in the near future, and Los Angeles is occupied. Holloway plays Will Bowman, a former FBI agent coerced into hunting down members of a resistance movement. But who they're resisting isn't yet clear. "Obviously, there's some group that has significantly superior technology," says Cuse who created the show with Ryan Condal, "but who exactly they are is one of the show's mysteries."
One thing that is quite clear, though, is the tension between Will and his wife, Katie, played by Sarah Wayne Callies (The Walking Dead). The couple has three children but one went missing when the initial occupation occurred. "Josh's character blames himself," says Cuse. "And he thinks that Sarah's character blames him. She doesn't, but that marital and emotional discord between the characters is a big part of the pilot."
"Working with Sarah, we've known each other for a long time," says Holloway who appeared with Callies in the 2007 film Whisper. "She was the right person for the job, and I was super psyched to get her. She has a weight to her that is palpable."
An original concept, engaging characters, all very important elements in launching a series. But then there's the real important stuff—like the length of Holloway's hair. "After I finish a project, I let this mop grow until my next project so they'll have a palette to work with," he says. But, ironically, he wanted to go super-short, like he had for Sabotage, the 2014 film he did with Arnold Schwarzenegger. "That's what I really wanted to do, is shave my head," he says, "but Carlton and [the other producers] were like, 'Yeah—no, not this time.'"
"There's kind of a renegade bad boy quality that Josh has with the longer hair," says Cuse, "and I love when Josh is playing that kind of character, and I felt like that was something that really fit for Colony."
Hoping for the right fit with fans, USA will be screening the pilot at San Diego's Comic-Con International, at the nearby Horton Grand Theatre, on Saturday, July 11. Before that, a panel discussion with the cast and producers will be held on Friday, July 10.
And while there will be plenty of Colony questions, no doubt there's a chance that a long-simmering Lost inquiry might pop up. "It makes me very happy that people remain passionate about Lost, [but] I think the show is so much better served by allowing people to draw their own conclusions," Cuse says. "Life goes on, and I couldn't be more excited about Colony, and I hope people will embrace it and become passionate about Colony in the way that they did about Lost."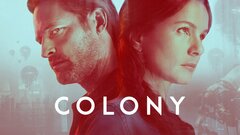 Colony
where to stream
Powered by