'MasterChef' Preview: Gordon Ramsay Hates Soggy Eggplant (VIDEO)
There are many things Gordon Ramsay doesn't like, and thanks to a preview of this week's MasterChef , we know soggy eggplant is one of them.
In the episode titles "Feeding the Lifeguards," the remaining 19 cheftestants head to the beach for the season's first team challenge: to prepare and cook fresh fish for 101 lifeguards.
And if cooking for a herd of hungry lifesavers isn't tough enough, the red team learns that cooking al fresco in a makeshift kitchen is no day at the beach either.
Chef Ramsay dishes up tough love to the Red Team, but is it enough to save them from elimination? The team whose dish doesn't impress the lifeguards must compete in the pressure test, after which one member will be sent home by judges Ramsay, Christina Tosi and Aarón Sánchez.
Check out this exclusive clip from MasterChef Season 8, Episode 4:

MasterChef, Wednesdays, 8/7c, Fox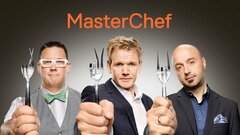 Powered by