Watch the First Two Minutes of 'The Night Shift' Season 4 Premiere
In last year's season finale cliffhanger of The Night Shift, heroic doctor T.C. (Eoin Macken) was stuck in the middle of a firestorm of bombs on the Syrian hospital and was trying desperately to get to safety. So why, when we meet him again 48 hours later, are his hands tied and he looks more beaten up than he did when we last saw him? That point is where we pick up at the adrenaline-filled start of the fourth season of the NBC hospital drama.
While we wait to see how T.C. will get out of Syria and back to San Antonio Memorial, Jordan (Jill Flint) and Drew (Brendan Fehr) are home but are in just as much danger as they fly right into a raging brush fire, where they need to drop down in order to save Mac (Mac Brandt). Never a dull moment for these doctors, right?
And, yes, all of this happens in the beginning of Thursday's season premiere. Can't wait until then to see how it all plays out? TV Insider has come to the rescue, then, since we have the exclusive first two minutes of the show to watch right now. Check it out:
https://www.youtube.com/watch?v=rW_WdOinBro
The Night Shift, Thursdays, 10/9c, NBC. Season 4 premiere June 22.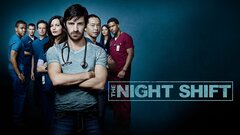 Powered by