What's On: 'Genius' Ends, 'Queen Sugar' Returns and PBS Goes to China
Genius (9/8c, National Geographic Channel): The deluxe Albert Einstein miniseries biopic concludes with a two-hour finale in which the celebrated physicist (Geoffrey Rush) and wife Elsa (Emily Watson) settle in America, still haunted by the politics of war as the Nazis split the atom and, later, the atomic bomb is dropped in Japan. The post-war Einstein devotes himself to peace and to further the cause of physics, ensuring his legendary reputation. As does this enjoyable series. So who'll be the next genius profiled in this dramatic anthology? Expect an announcement during these last chapters.
The Story of China (8/7c, PBS, check local listings at pbs.org): Historian Michael Wood embarks on a visually expansive 4,000-year journey charting China's evolution from an ancient culture to a modern superpower, airing over six hours (two each Tuesday through July 11, taking July 4 off). The subjects in the first night include the Tang dynasty, the Silk Road and China ships.
Downward Dog (8/7c, ABC): It's Martin's seventh birthday—in dog years, mind you—and as often happens in this charming comedy, his peace of mind is shattered by an unwelcome intruder into his cloistered world, who's determined to ruin his plans for the best nap ever. "What did I do to possibly deserve this thing coming into my home?" he laments. The "thing" being an adorable puppy adopted by Nan's (Allison Tolman) pal, Jenn (Kirby Howell-Baptiste), and if Martin suddenly feels old besieged by this bundle of cute energy, the girlfriends have much the same experience as they head into Pittsburgh to drown their romantic sorrows. Star Trek's Nichelle Nichols makes a guest-star cameo as a local singer who projects a very welcome forever-young philosophy.
Queen Sugar (10/9c, OWN): The moody family drama, with a second season directed entirely by women, returns with a two-part season opener (concluding on Wednesday, the show's regular night). Complications ensue when Charlie (Dawn-Lyen Gardner) seeks a loan to start her own sugar mill, unaware that sibling Ralph Angel (Kofi Siriboe) has discovered a revised will making him the sole owner of the family's Louisiana sugarcane farm. Not the sweetest of situations, to put it mildly.
Inside Tuesday TV: Syfy's Face Off (9/8c) continues its competition between two effects "shops" with another nifty challenge, this time involving alien colonies inspired by insects, with teams creating a queen, worker, drone and hatchling. … TBS returns its Lost parody Wrecked (10/9) for a second season of survival shenanigans.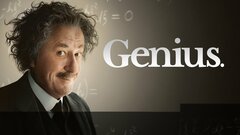 Genius
where to stream
Powered by